Medium secure parcel delivery box
Medium secure parcel delivery box
Our medium parcel delivery box has been designed to store packages securely, when you are away from home. You will never have to worry about missed packages again!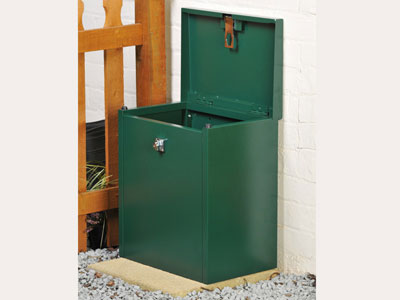 What is the parcel delivery box made from?
This parcel delivery box is made from weatherproof steel to prevent rust and keep the contents inside nice and dry.
How does the parcel delivery box work?
Make sure the box is left unlocked, for it to be able to accept mail and deliveries. All the courier has to do is the courier simply lift the lid of the parcel delivery box and place the parcel inside, close th elid and turn the lock, which secures the box until you return home. The parcel delivery box can be secured to the ground for added security.
Medium parcel delivery box customer comments
"We are very, very pleased with our Asgard Parcel Delivery Box. It is extremely high quality and was very easy to put up. We have had no problem with deliveries since and it is fantastic knowing that your parcels are locked safely away once they've arrived. Your additional notices (for location of parcel box and how to lock it once you've placed parcels in it) have worked a treat. I would recommend this unit to any homeowner - gone are the days of traipsing down to Royal Mail to collect parcels - thank goodness!" Anne Brennan
"Have been looking for something like this for a while now - it' perfect,thanks" - C. Green
Do you want to know more about the Asgard Medium Parcel Delivery Box?