Make your Asgard cycle garage bigger
How can I get a bigger bike garage from Asgard?
At Asgard we have a wide selection of bike storage units. Our largest bike garage, the Cycle Store x 8, can hold up to 8 bikes and cycling accessories. If this still isn't big enough for you, don't worry, Asgard have the solution.
See the dimensions of the Cycle Garage x8 below:
Extensions can be purchased to add extra depth to this cycle garage, providing you with even more storage space. Please bear in mind that extensions increase the depth of the garage only.
Asgard cycle garage extensions are available in two different sizes, these are:
½ extension – increases depth by 1'8" at £300
Full extension – increases depth by 3'6" at £374
These garage extensions are ventilated to add additional air flow inside the garage.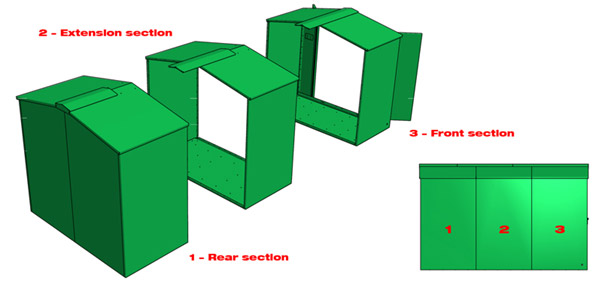 As you can see from the above image, these extensions are designed for the middle of the garage.
It is important to note that the deeper you make your Asgard garage, the less natural light there will be inside.
If you would like to purchase an extension to go with your Cycle Garage, please contact us to speak with a customer service team member.