Locksmith approved Motorcycle Storage
What does the UK Locksmiths Association thinks of Asgard Motorcycle storage?
Our range of Motorcycle storage offers unbeatable security for you motorbike - with 5 point locking, pick resistant locks and heavy duty - reinforced panel construction AND vented roof and sides, No wonder this unit has been UK Locksmiths Accredited. Read more below-
Find out more on the main motorcycle storage pages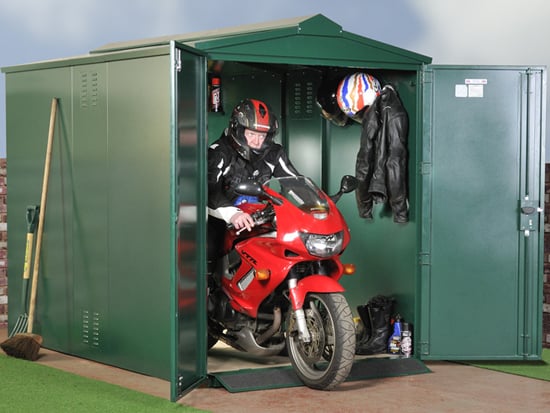 The review:
"The motorbike is away from prying eyes protected from the elements and secure. You have no worries about high winds catching your bike cover like a sail or minute stones/grit rubbing against your paint work as you would with a well used material bike cover. You can chain your bike internally which in heavy rainfall is a luxury. If you forget to chain your motorbike on the odd occasion no one will know. Great for also storing bike related items oils, chain lubes, original indicators etc"