This is a Fantastic Asgard Unit
My Asgard shed looks great in my garden
With so many Asgard garden sheds to choose from - it can be a difficult choice! All of our garden stores are made from galvanised steel, making them not just really secure, but also weatherproof.
Unsure about the Asgard metal garden shed range? Read our customer reviews to find out more.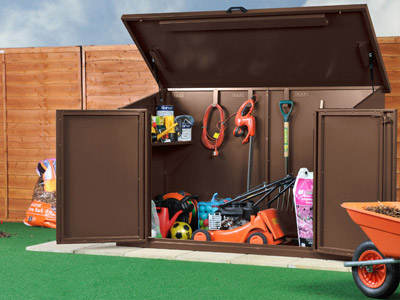 Customer comments
"Just to say thank you for delivering my fantastic Asgard unit, your fitter installed it in no time and it looks great in the garden. Can't imagine not having one now as I use it all the time and it saves me lots of space in the house since the 'boys toys' got moved out. Very pleased I bought one" - Michael Hallinan
I have had mine for over a year now. Free postage was a bonus at time of sale. Fast delivery and we put it up in very short time. It is completely waterproof and a well made product - I doubt you will find a another cosmetically pleasing garden shed that is very high security. Thank Asgard :)
We live on the east coast less than 1 mile from the sea and we bought this shed in 2010 to store garden and DIY equipment. We have had snow, wind and rain and to date the shed looks as good as the day it was despite the salty weather. The inside remains rainproof and secure and it is large enough for our domestic storage needs, power tools, old paint tins, steps, garden tools etcAs another reviewer pointed out it is dark inside since there are no windows but it isn't an issue for me with the door open, I can see to the back during daylightIt was easy to erect, I paid someone local to help.
Yes we are more than happy with our Asgard Shed and are enjoying filling it with new outdoor toys and activities for our children within our Pre-school. It is so much better than having a wooden shed which takes effort to treat and maintain. This unit is just so much more better suited to our needs and much more secure. It just needs a light inside as its quite dark as there is no window (Like you get in wooden sheds) Maybe we should purchase a battery operated light fitment!! The whole procedure from ordering through to delivery was great, and on the one occasion when I needed to query something the Asgard team were very helpful. I am also trying to persuade my husband to order one for our own personal use!
See the full metal garden shed range