I use my Gladiator garden shed for bikes
We thought we had got every type of bike storage - but looks like we have missed an idea!
Our Gladiator shed was designed as a huge garden store, with exceptional security.. however our customers have made much better use!!!
Customer comments:
"I bought your Gladiator metal shed with an ulterior motive in mind. I had seen one of these units at my childrens school and could instantly see a much better use! As you can see by the attached photo I use this massive shed as a workshop by day and a bike store by night. The shed is an idea width for a bike on a bike stand, plenty of room to get around to both sides of the bike. The pitched roof gives shelter from the elements as I stand furiously oiling up the bike."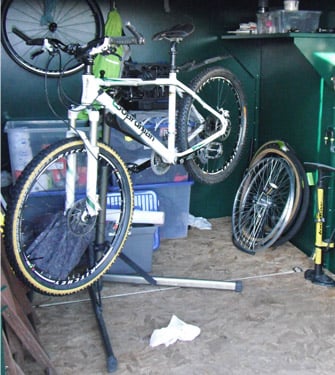 "I have mounted a shelf quite low inside the unit, this provides an excellent place to rest my tools mid maintenance. Hooks have been added to the rear of the unit (my own not yours) for hanging tubes and wheels etc I'm also thinking of buying one of your extension modules to make it even bigger, then I could keep all my riding clothes in on hooks."
Hello, I had my bike shed delivered today, and I wanted to tell you how friendly and helpful your delivery driver was, He could not have been better, and nothing was any trouble, if I am as pleased with my product as I was with him, I will be a very happy customer! please pass on our thanks.
Yes I have got one of these. Really good unit. Ideal size enough for my – 4 bikes in a row, all my tools and lubes together on the shelves. One comment would be to make sure the ground is level. I tried to put this on grass to begin with, not a good idea. The unit becomes twisted and the screw holes don't line up. Once I put my hand in my pocket and put some concrete down it went together like a dream!
bike maintenance store as suggested by this customer.