I am looking for good quality bike storage
Asgard cycle | bike storage
Discreet and secure bike storage - that's what we do! Bike sheds that are exceptionally secure, yet don't attract too much attention. Available in a range of great looking colours our heavy duty cycle stores look great in any environment! Read some of our customer comments and see what real people think about Asgard.
Customer comments:
"We've been very pleased with the bike store. Very solidly constructed but extremely neat-looking from the outside (we've got the brown, which is a good match to York-stone coloured paving and deep red brick of the side wall). The padlocking system, which I was initially unsure about, works very easily. It has attracted the attention of a neighbour (in a good way) and we've recommended it to them! The only thing that I think purchasers need to be aware of is that the panels come unpackaged and (as you warn beforehand) are very heavy. We were able to construct it immediately it was delivered but if we had not been then it would have been somewhat difficult to store. This is not a typical 'flat-pack' bit of kit, but that is a good thing!"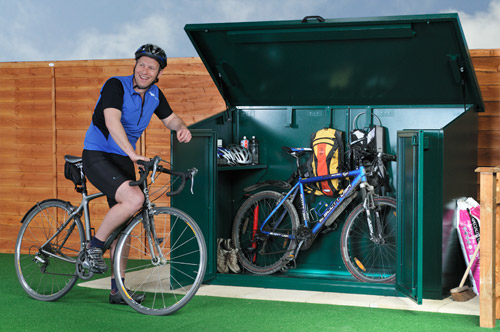 "Putting it together was pretty straight forward and required two people for a couple of the steps but mostly I could do it all myself with just a hammer and an electric screwdriver (which was good given my wife was 7 months pregnant at the time)"
"The original delivery men made good contact and let me know at every stage when they would arrive, and they arrived early than originally planned (after confirming this was okay). The only down side was that one of the panels was delivered wrongly which meant that they could not put the shed up. I thought it was a good thing that we had paid for installation as if we had tried to put the shed up ourselves wewould not have know the panel was wrong to start with and I think we would have had problems. This meant another crew had to come along two days later to put the shed up. Again there was good communication from the them and again they came earlier than planned so I only hadto take an hour off from work. Both of the delivery crew werepolite, friendly and efficient."
"The unit was £450 but it has stopped me from arguing with the wife about blocking the garage with "all that cycle rubbish" not that we use the garage for a car!!and I have not had a bike nicked!"
"Just wanted to say I am delighted with my Asgard Bike Shed. It was straight forward to assemble and is holding 5 bikes (mix of adult and child) safe and secure. Well worth the money and would recommend to others." - G Smith, Edinburgh
More Asgard bike | cycle sheds can be seen here on our main cycle storage pages