How you could pay less for motorbike insurance
Getting cheaper motorbike cover
When it comes to paying for your motorbike insurance, you probably dread that renewal letter landing on your doormat. You open it up, sigh at the cost and grudgingly sign up for another year.
However, it doesn't have to be like this, it is often possible to find a cheaper motorbike insurance quote if youunderstand the basics when it comes to renew.
In this article from the motorbike insurance specialist Bikesure you'll learn some of the basics of insurance and a few things you need to think about if you need a new policy.
Tip #1 - Your bikes mileage
In a nutshell, the less time you spend on the road the less you will pay for your insurance. This is because you'll be less likely to make a claim, so when declaring how many miles you expect to doeach year make sure you're as accurate as you can be. If you say you'll do 1,500 miles a year and you actually do 5,000, it could prove an expensive mistake if you have chosen a limited mileage policy.
Tip #2 - Your bikes security
Security is key when it comes to paying less for your insurance too. First up, make sure all the motorbike security you buy has the Thatcham or Sold Secure logo it may be a bit more expensive but can you put a price on peace of mind? For additional protection against theft (and the elements) your insurer may offer a further discount if you invest in a Motorbike Shed or keep it in a locked garage. The more secure your bike, the less chance it will be stolen and the lower your premiums may be.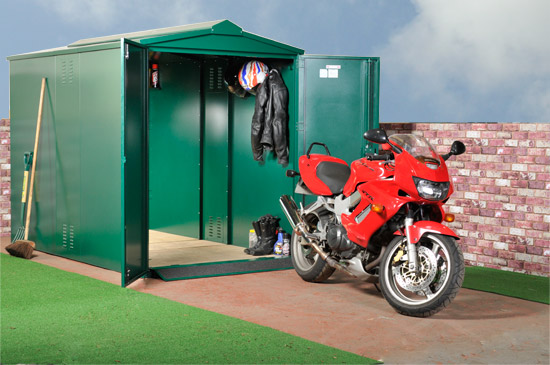 Tip #3 - Your bike
It seems unfair to punish careful riders with higher premiums, but it's a sad fact that high-performance machines are more likely to be involved in an accident, and that can be reflected in the cost of a policy, especially for young or inexperienced riders. If you don't want to pay through the nose for your insurance, choose a bike which is appropriate to your skills and experience.
Tip #4 - Your biking experience
When you pass your test, you'll be keento rip up those L plates and get out onto the open road. But before you even think about riding off into the sunset, taking an advanced riding course can help to keep your costs down. Passing this test will show you're an experienced, and most importantly safe rider. The safer you are on the road,the less likely you'll be involved in a crash.
Tip #5 - Your bikes cover
Finally, the price you will pay foryour insurance can also depend upon the level of cover you choose. Third Party Insurance is usually the cheapest policy, but it won't cover any damage to your bike if you need to make a claim. Fully comprehensive is usually more expensive, but provides greater peace of mind so weigh up your needs and your bank balance. Don't forget that you can add on certain extras, such as breakdown cover and personal accident and injury to your cover too.
See how to pay less on your motorcycle insurance premiums