How to store your bikes in the winter
Winter Bike Storage from Asgard
Here at Asgard we laugh at the bad weather!!! Our range of bike storage has been designed and made by us here in Yorkshire, so we know all about bad weather! All of our bike sheds are made from tough, weatherproof steel - Secure and weatherproof!
Bursting with security features such as ground bolts, security rated locks, shrouded locks, reinforced doors......... the list goes on.
Read some of our customer comments and case studies to find out more.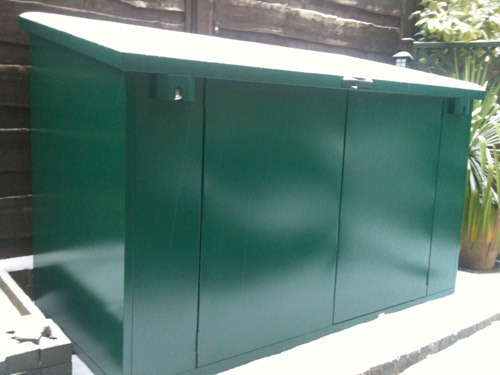 Customer views:
"The product is excellent and I am happy to recommend it to anyone considering buying a bike shed". Rasko
"Just a quick note to say thank you and the company for such an excellent product, the ordering was simple and easy (even for me) the delivery was on time and the people who delivered it placed it where I wanted the assembly of this product was so straight forward, so please pass my thanks onto the design team / person who designed this product. I feel that my bikes are now safe and out of the elements." R. Fitzpatrick.
Now some 4 years old, this store is still in very good shape. Weather & burglar proof. Storing 2 bikes, pots of paint, garden cushions and lots more. Arrived on time. Managed to assemble and secure to the paving slab base single handed. - Anita
Easy to assemble - takes 2 people for the lid though.Weatherproof, secure, stores my 3 bikes and all the other bike rubbish no problem.Not a single complaint.- JC