Asgard high-security sheds are approved
How do you know your shed is really secure?
When purchasing the best bike safe, the most secure garden shed or the highest quality motorcycle garage you can buy from the Asgard website, you may see many accreditations that you're not familiar with. So, what do these all mean??
Asgards list of accreditations are huge!!! And include the Loss Prevention Certification Board(LPCB), Secured by Design (Police), and UK Locksmith Association Approved. These accreditations mean an independent company has tested the product and awarded it a security level, and/or approved it as a secure shed.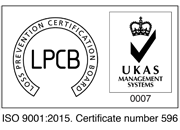 LPCB Loss Prevention Board Certified Sheds
A number of Asgard sheds are Loss Prevention Certified to level 1 (LCPB) any shed boasting one of these badges will be very secure. Storage, bearing the LPCB mark will have reinforced doors, hinges and integral floors, and are so secure they can often attract insurance discounts. Do check the certification though, some less than honest shed manufacturers will provide you with a weak corrugated shed and supply you with, for example, an LPCB bike lock inside the shed, instead of the shed itself being certified as secure. So you really pay for a shed you donated, it would be cheaper to buy a sheet of plastic to cover your bike with and the lock from a DIY store.
LPCB thoroughly tests the products, regularly re-test and carries out inspections of the manufacturer's production facility for consistency and quality. Asgard is audited every year or so by the LPCB to ensure we maintain the quality of the original sample. We can't even change a screw without notifying them. You can see LPCB in action testing Asgard Sheds here.
---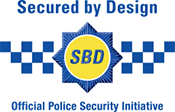 Secured by Design Police Approved Sheds
The Police run an initiative, Secured by Design (SBD), an organisation that works on behalf of the Police with manufacturing companies to ensure the security of the "secure" products are of the highest possible standards, and up to date and keeping pace with emerging crime trends. Secured by Design check that the products are fully certified by an independent third-party certification body accredited by the United Kingdom Accreditation Service (UKAS), such as LPCB. If you see a Secured by Design Police Prefered shed specification logo, then you know that it is tested and recommended by the police and other organisations such as the UK Locksmiths Association and the loss prevention Certification Board. As it happens, the Police have actually bought bike lockers from Asgard for their own bikes.
---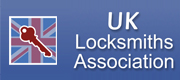 UKLA Approved Sheds
The UK Locksmith Association is one of the highest authorities in the Locksmith industry, providing help, advice and reassurance the locks used on the sheds are of high quality. All of Asgard's high-security sheds feature a pick-and-drill resistant lock which is approved to EN1303 confirming the highest tested level of durability, temperature and corrosion resistance. Any reputable shed or storage manufacturer should be able to tell you what British or European standards their locks are tested to.
---
Sold Secure Storage

You may also see the Sold Secure Bronze, Silver and Gold logo, which is another provider of high-security product testing. You mainly see Sold Secure items on bike locks and padlocks rather than sheds and is a great way to increase the level of security within your shed. Asgard's ground anchor and bike lock is a great example of a Sold Secure Gold lock. They add yet another layer of protection for your tools and bikes.
---
Why buy a secured shed?
Genuine LPCB and Police approved sheds will cost you £600+, so do you really need this much security? If your bike is only worth £250, it's more expensive than you need in comparison to, for example, £8000 worth of jetski equipment. However, security levels differ depending upon where you live too, if you know your pride and joy will be constantly stolen, that £250 still mounts up if you have to buy a new bike every year!
That said, even if it's not an LPCB approved shed, you can still get excellent security from a good quality metal shed. Look at our previous bike storage posts for in-depth details of what to look for in a metal bike shed, however, briefly:
Does it have an integral base?
This is essential to stop thieves getting under the shed. Also, look if the shed bolts to the ground, this will give added security.
How does it lock?
Avoid hasp and staples. Choose a minimum of 3-point locking, and preferably 5-point locking, Police & LPCB approved shed.
How is the unit fixed together?
If the screws are on the outside a thief can just take your shed apart. Look for internal fixtures and fittings.
British-made or imported?
UK manufacturers work to better quality standards by law, imported sheds are not necessarily as good quality. Even though they look the same.
Is the manufacturer ISO 9001 Accredited?
This means the company is independently tested for quality. ISO 18001 and ISO 14001 also check for environmental and health and safety management, which is a sign of a responsible company.
What type of metal is the shed made from?
Look for galvanised steel, with a warranty against rust. Also, check the gauge of the steel to avoid corrugated materials.
How heavy is the shed?
You don't want it to tip, kicked over or blown away in the wind.
Shed storage accessories?
Do you need shelves or hooks? For your helmet and other gear and often overlooked but very handy for wet clothes to dry on after a tough winter ride.
Do you really need a shed with LPCB certification?
What do others think? Check the internet for feedback, real-life reviews of products and service and check the manufacturer's website for a case studies section.