High security sheds from Asgard
High security shed - insurance approved garden sheds
The Classic metal shed is one of our oldest shed designs. But you know what they say ... the old ones are the best! The Compact high security shed was designed primarily as a secure garden shed to be used where floor space is limited.
The Compact shed is classed as high security due to its extra, reinforced construction. Heavy duty doors, extra thick steel material, dead bolts, 5 point locking system, pick resistant lock .. the list of features just goes on!!
Oh and did we mention...this unit is so secure it has been tested and approved by the Loss Prevention Board??? so it's insurance approved as well!
We have found customers cramming all sorts in them! See how this customer has got just about everything in!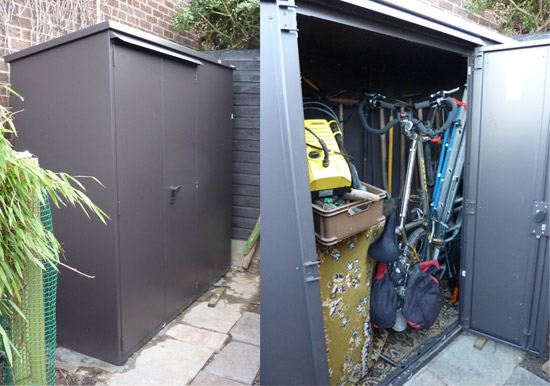 "I just wanted to keep a few garden tools secure but easily accessible when working in the garden. The classic store was easy to erect on the prepared base and all the pieces were there, that I had finished on my own) it in a fractionof the time expected. When finished I was so confident of its robustness that I moved all my garden tools and my bicycle into it from the garage".
Good high security shed, The brown is perfect for our stable. You hardly know it's there. - BM