Happy with my high security bike shed
High security bike shed review
The Annexe bike storage shed is the toughest storage unit for bikes available from Asgard. This bike shed is fitted with heavy duty features, including a 5 point locking system, with a pick and drill resistant lock ..... and it has folded, reinforced doors, welded hinges and reinforced (braced) panels.
This storage unit is insurance approved and has been designed to reduce the risk of theft.
Read our customer comments and see how Asgard have kept their bikes safe from theft.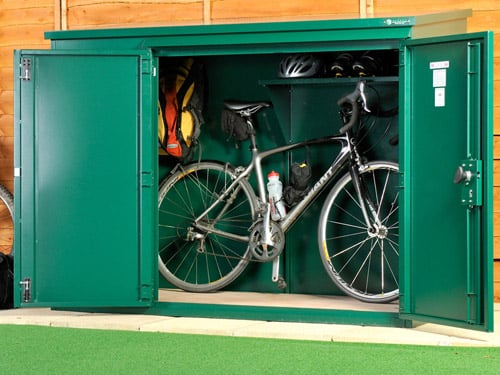 Customer comments:
" I am generally very happy with the Asgard Annexe high security bike storage unit. It was delivered on time, looks great, good colour and seems very robust. It was relatively simple to put together with good instructions."- Mark
"This bike storage unit is very well designed, screws on the inside, overlapping door to prevent it being forced open, and a rain guard over the door to prevent water entering it. It has been up for 6 months with no problems, no damp, no condensation, no rust or leaks. I cannot rate this enough!we bought this due to purchasing a new shed (which bizarrely got 5 stars on reviews...and was total rubbish and we were unhappy leaving our bikes in it) - so an additional expenditure for peace of mind..but totally worth it! it has plenty of space for 2 bikes and all the kit, it is easy to use, very secure, very sturdy and we chose brown which fitted in with the garden décor very well.if you want dependable security for reasonable price buy this".- Richard
"Living in London I needed a high security store for my bikes and this is the only one i would recommend,[ insurance recommended ] great locks and solid construction, put together myself very easy.I also insulated with a foil bubble wrap from a large DIY shed which has kept the bike in great condition over this winter again highly recommended.Now for the down side the size was a problem for me 3 bikes will fit in this model but I have to top and tail the bikes to get them in and have to use old blankets to prevent scuffing the frames.If you have 3 bikes to store, don't make my mistake go for the 4 bike option if theses are also insurance recommended"? - Sid
"Seems bomb proof to me"