Get extra security for your metal garden shed
Shed Security Alarm
Our motion sensor shed alarm, is just the thing you need for your metal garden shed. The motion sensor alarm emits a 130db sound, sure to scare off any garden thief, providing extra protection for your stored items. This alarm is suitable for all of our metal storage units and comes with fullin structions.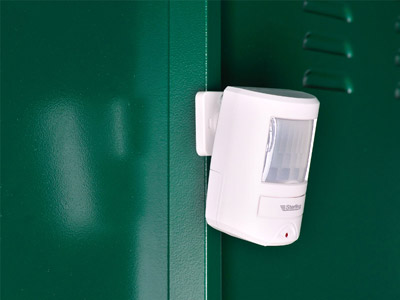 The motion sensor alarm is simple and easy to install and use. All you have to do is:
1.To mount the alarm, simply remove one of the screws from the inside the unit, line the mounting bracket hole up with the pre-drilled hole in the unit and reattach the screw.
2. Once the alarm has been placed, press the button within 10 meters. A confirmation tone will indicate the alarm is armed and you must exit and suture the area within 30 seconds.
3.Press the button to deactivate within 10 meters.