Asgard gas bottle storage units
Large gas bottle storage
These Large gas bottle storage units can store up to four 47kg propane gas bottles. Designed in conjunction with Calor Gas, there's nothing better to store your gas bottles in. This sleek design helps to keep gas bottles neat and tidy and looks great in any environment.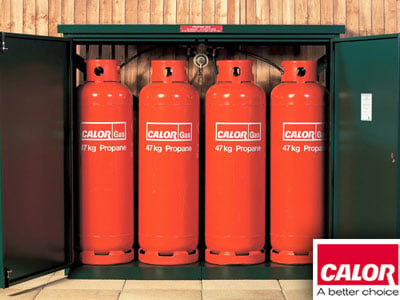 What is the gas storage unit made from?
Asgard gas bottle storage units are made from thick weatherproof steel, to prevent rust and decay, like all Asgard storage products.
How does the gas storage unit work?
Slide the gas bottles into the unitusing the included ramp and lock them up with the utility style door lock. Increase security of the gas bottles by chaining them to the rear security rail.
Gas storage customer comments
"Asgard Gas Storage units are the secure, Gas Store solution for your LPG cylinder supply. Asgard gas storageunits come in a variety of sizes and colours to suit the majority of needs andfit into the chosen location. The gas store units have a tough, galvanised steel construction, which is then further protected by exterior quality,weather resistant paint. Gas cylinders can be chained to back rails for extrasecurity. The units have asingle lockable door (L or R) with universal locks to enable gas supplier togain entry and the tops lift open for checking of regulator and access to shutoff valves in case of emergency".
"The Asgard gas storage cabinet arrived as promised. Good build quality and the brownpaint finish looks perfect against the natural stone wall. I would definitely recommend this product for anyone requiring LPG gas storage". Malcolm
Do you want to know more about the Asgard Gas Bottle Storage unit?