South Yorkshire Police Garden Security Advice
How to secure your garden
Many people underestimate the value of the items they store in their shed, garage or garde. Unfortunately, criminals are fullyaware of the value of the goods that some people do store in vulnerable places. The following advice can help to keep your property secure and reduce the chance of you becoming a victim of crime.
From the South Yorkshire Police Force Website
Shed Security
Sheds can be attractive targets for thieves. They can contain expensive equipment and are often poorly protected. Whilst a shed is not designed to withstand any form of determined attack, there are some simple measures you can take to make them more secure.
Position your garden shed as near to your house as possible so that it is clearly visible from your home.
If spoiling the aesthetics isn't too much of a concern then paint your house number and postcode onto your valuable gardening equipment (e.g. lawnmower, strimmer and tools). This makes them much less attractive to potential thieves and also increases the chances of the property being recovered and returned to its rightful owner if it is stolen.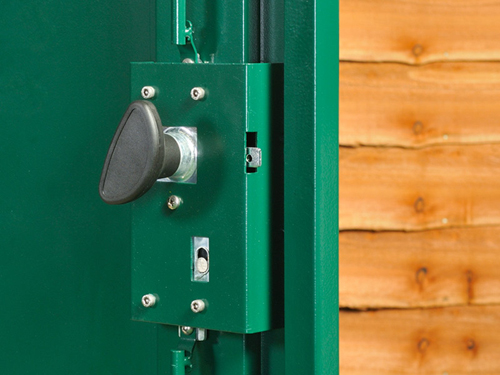 Avoid storing valuable items such as power tools, fishing tackle or golf clubs in a shed. These items should be stored inside your home or a secure garage.
The most effective way to secure shed doors is to fit a strong hasp and staple (also called a 'pad bar'). Secure this with coach bolts (long bolts with a smooth head that cannot be undone with a screwdriver or spanner) and lock the hasp over the staple with a closed shackled padlock.
You can further protect your shed with items such as 'shed bars' and larger items such as cycles can be secured to shed shackle.
If you have been working in your garden ensure that you lock away tools such as spades or forks in a shed with good quailty locks when you're finished. Tools left out overnight could be used by an intruder to gain access to your property. So lock them in
your garden shed.