Bike sheds giving peace of mind to Asgard customers
Bike security and storage products from Asgard
We offer a selection of bike storage for both professional and domestic use. All of units are made from heavy duty, weatherproof steel and have been designed to offer the maximum protection for your cycles.
Our Access bike shed (below) has been designed to hold up to 4 mountain bikes or 4 road bikes, plus all of your riding gear. Security is provided by the thick steel and shrouded locking points plus the reinforced doors and super tough locking bars.
Customer comments:
"Since we have had the Asgard unit we sleep easier at night knowing that it is virtually impossible for someone to take away our cycles - over the last few months there has been a spate of cycle thefts. It was money well spent and will certainly recommend you to other people who want safe and secure units for their possessions.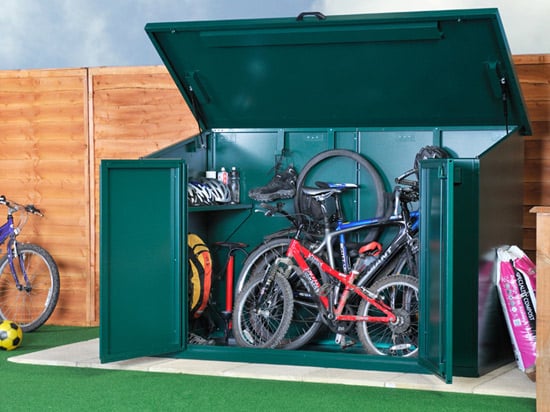 When the guys came to install the unit they were friendly, efficient and fast. It was installed and my bike was in the unit within two hours. We did have one problem when for some unknown reason the lock wouldn't open but with a little gentle persuasion it opened. No problems since then, so far. Thank you very much" Regards Shaun Nee
What the pros think:
BikeRadar "Excellent attack-proof design" - 4.5/5 stars
Cycling World said, "The Asgard Addition provides excellent security for precious bikes and takes up only the smallest of spaces"
Find our more about our range of cycle storage at our main cycle page here>
More methods of securing your bike