EMTB Forums Reviews the Access Plus Bike Shed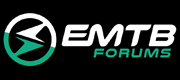 EMTB Forums reviews the Access Plus Bike Shed
Posted: Feb 2020, Original Post written by SquireRides
View the article on their website.
Product name: Asgard Access Plus 29er Bike Shed
Price paid: £550*
Score (Out of 10): 8

Review:
Summary

+ Much more secure than a garden shed
+ More likely to be insurance-friendly
+ Big enough for 3-4 modern mountain bikes and kit
+ Lid and doors give plenty of access space
+ Choice of colour and accessories

- Self build is not an easy option, and install service significantly increases the cost.
- No built-in anchor point
- Premium product at a premium price - Does it pay off for your bike collection?

Video
Too busy to read? Here's the video review!
Introduction
Bike theft is a constant threat in the city I live in. Sad, angry residents are pictured stood in front of their shattered garden sheds; details of stolen bikes are circulated by the neighbourhood watch; and I fear for the well being of my bikes and my family's bikes...Where should I store my bikes? Normal garden sheds use cheap locks, thin wooden walls, hinges and screws that are easily removed...There must be a better shed.

After a bit of Googling, one product kept coming up. The UK made Asgard bike shed. Available in a range of sizes, I'm looking at the Access Plus, also known as the 29er, which claims to be designed to safely house four large modern bikes.

Is it secure?
Can it really holder four slack 29er mountain bikes?
And is it worth the money?

This is my long-term review, after 6 months of use.

Is it Secure?
What you need is something that deters theft, but also that your insurance company thinks is good enough to actually pay out on in the event of a theft. Your storage should hide its contents and look more secure than an alternative target. With the Asgard, there's no way to see what's inside, unlike a typical shed with a window. And there's no doubt the Asgard looks a lot less like an easy target.

Building the shed myself, I kept spotting clever design features for security and strength. Every part of the Asgard construction has some feature that also contributes to its security. I was really impressed. Just picking a few examples here...

1. There's no bolts or screws that can be undone or cut externally. Unlike a normal shed.

2. The locks you can buy from Asgard are pretty normal kind-of okay locks, not super secure. But once in place, the locks are protected by the shed itself. You can't get bolt croppers to them. I thought this design might make them hard to unlock and lock. But no! It's super easy
3. Every joint, every join, every place you could in theory get a crowbar in, has some sort of shield or reinforcement. I could imagine it taking a very noisy ten minutes with heavy duty tools just to prise open one part of the Asgard, and it still wouldn't be enough space to pull a bike out. Impressive.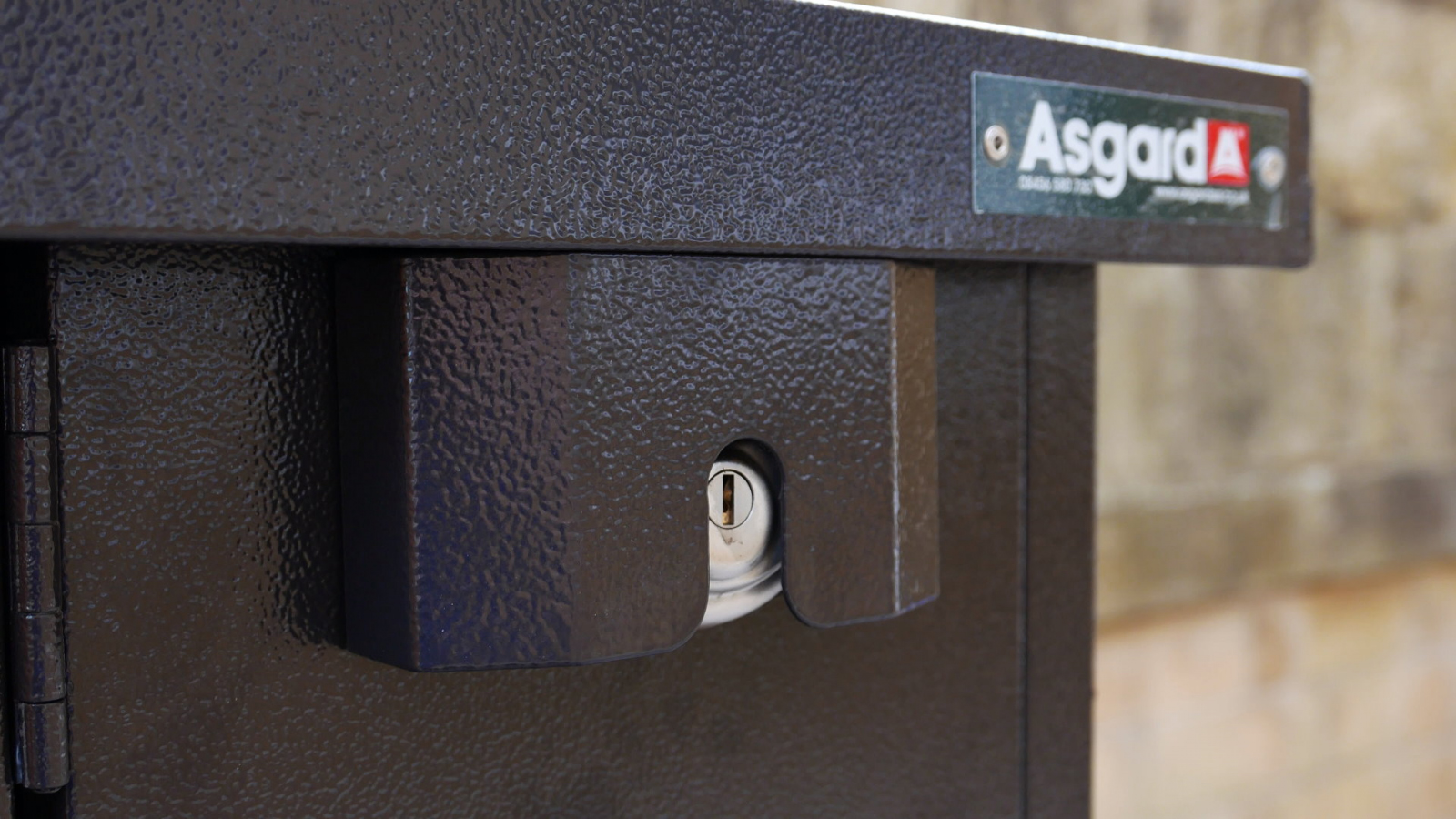 Okay, what about security features to keep your insurance company happy?

It's locked, and the bikes inside are not visible to passers by. Both typically requirements of insurers. But insurers will often require that the bikes are also locked to an immovable object. And this leads me to my one big wish for the Asgard. A built-in anchor point. Yes, I can throw a gold rated chain around all the bikes, but it would be so nice if there was somewhere to secure it to the inside. Asgard provides advice on fitting a third-party ground anchor, drilling through the base of the shed in to the concrete base. But for all the clever and secure construction of the Asgard I was left asking: Why couldn't they have the option of a built-in anchor point?

So is it more secure than an alternative target? Yes.
Will it satisfy your insurance company? Yes, it will meet most insurer's requirements for a secure outbuilding. But check your policy - you may still be expected to lock you bikes up *inside* the Asgard.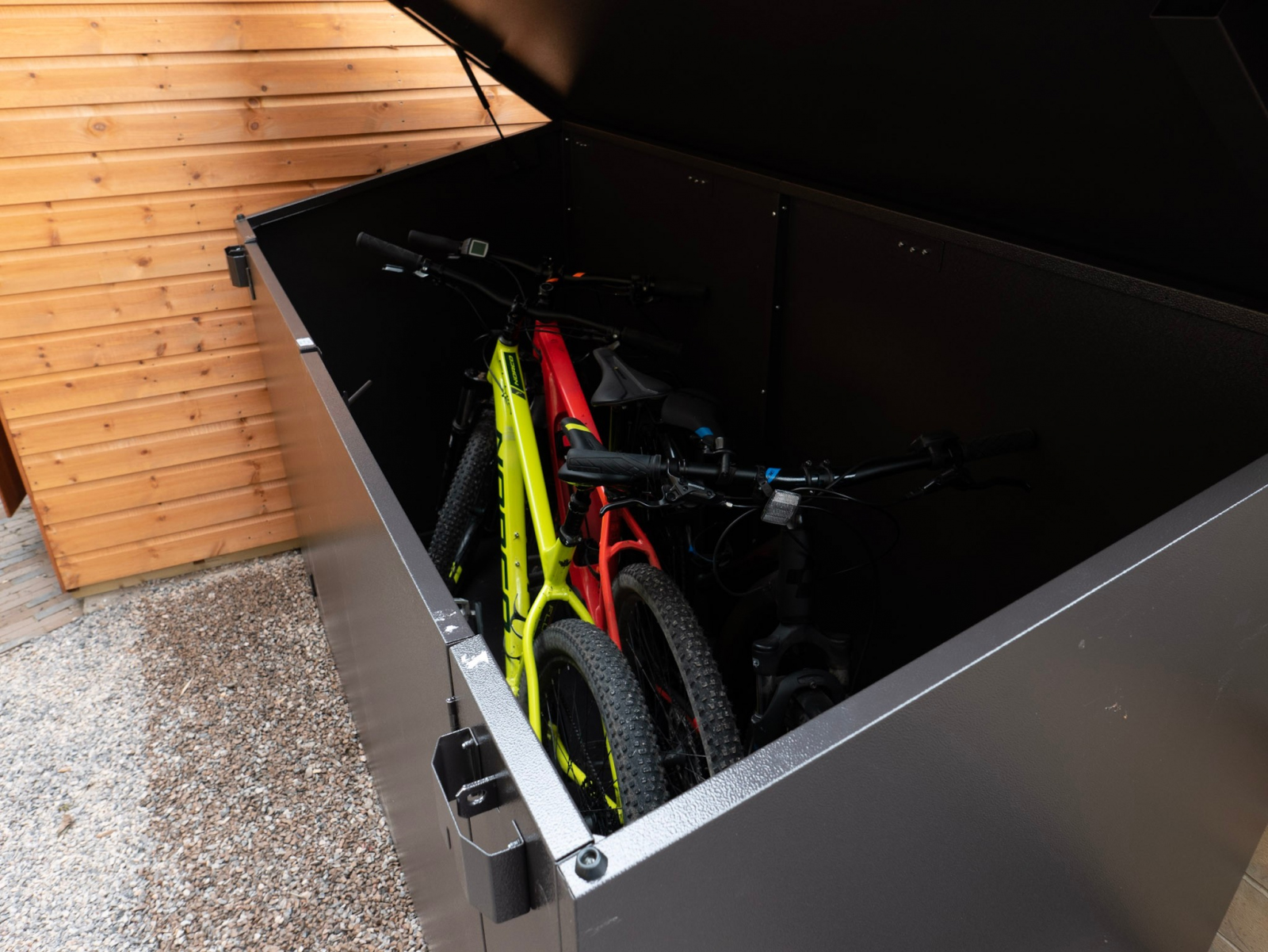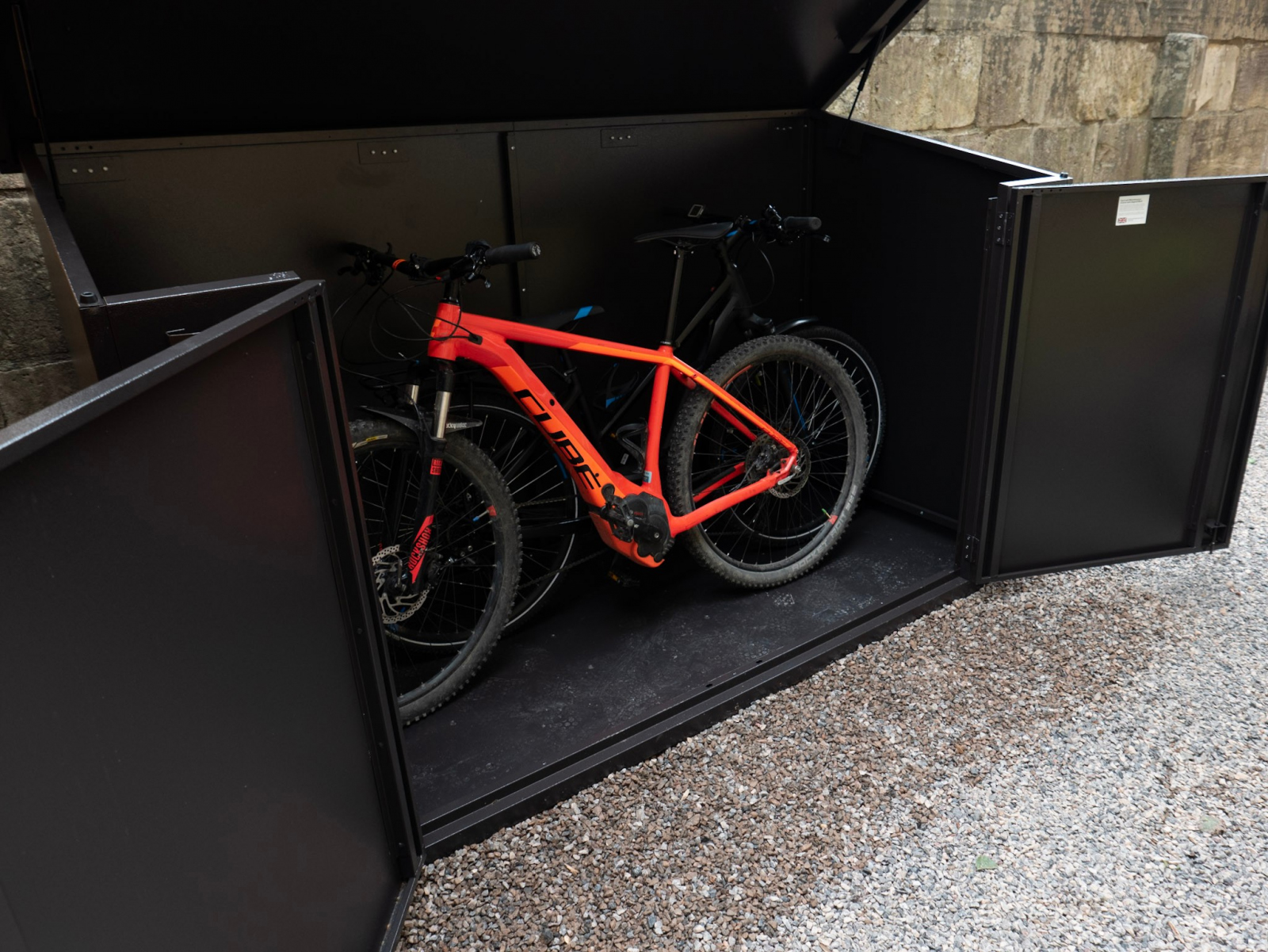 Is it Really Big Enough?
The next question to ask is, is it big enough for all your bikes? So many things today still seem to have been designed for bikes from the 90s - Bikes with smaller wheels, shorter frames, no cargo bikes, no ebikes. The good news is, the Asgard Access Plus is super-big, and easy to use too.

My slack XL-sized 27.5+ hardtail, and a 29er ebike, and a long tail cargo bike, all fit. Height is fine, although due to the slant of the roof, you sometimes need to turn the handlebars of the bikes. Getting stuff in and out is simple through the two large opening doors, and roof, which has a good action. Once full of bikes, there's still plenty space in the corners for kit.
The Access Plus is advertised as holding four bikes. I've been using it for three, just because our bikes are used a lot, and shuffling four bikes around would be a bit much. With three bikes, there's less faffing trying to get them in just-so. I could certainly throw in my kid's bike in addition to the three adult bikes, no problem.

Is it Worth the Money?
Let's talk about the cost. At time of writing, the Asgard Access Plus is listed at £550 including VAT. That also includes free delivery. The optional installation service is an extra £225. That's more than double what I recently paid for a large garden shed to be delivered and built.

Is it worth it? Clearly, the security features of the Asgard are far better than a common wooden shed. I can see what I'm paying the extra for. I do subscribe to the 10% rule of thumb: That you should expect to spend at least 10% of your bikes' value on locks and security. I don't have high-end bikes, but I do have a few nice bikes and ebikes. And a good track pump, work stand, and tools. All stuff I'd be worried about leaving in a garden shed.
There's other benefits to the Asgard, such as its compact size, that may mean it's a good choice for people who value the convenience of a dedicated bike shed, even without a fleet of expensive bikes to protect. It fits in to locations a typical shed would not, while still being able to house four bikes. That could save you money if you would otherwise have to get builders in to lay a new bases for a larger shed.

If I do the math, £550 is justifiable. I'm happy to invest in gold rated locks, and the Asgard provides a similar high level of security for a premium price.

How Easy is it to Build?
The build took me all afternoon. Easily four hours. It's not all a two-person job - you can get a lot done on your own with someone else available to help you for ten minutes occasionally. It is hard work to build, and you need the right set of tools. If that's a problem for you, Asgard offer a build service for an extra cost.

Conclusion
I'm going to put cost aside. If you are looking at an Asgard bike store, you have probably already decided the money is worth it to secure your bikes. Which leaves the question, does it work as advertised? ...

It is much more secure than a wooden garden shed. But your insurance or your expensive bikes may demand additional locks and an anchor point inside.
In day to day use, it's been a pleasure to use. Security can get in your way, but the ease of using the locks, the roof and side access, and ample space, mean I actually prefer it's relative compact size compared to a typical 6x8 shed.

If you know you need to invest in good cycle storage and security, then the Asgard Access Plus delivers.
*Correct at time of writing
---
This review is about the Asgard Access Plus for 29ers. Click here for more information.
---
EMTB forum discuses the review and their bike storage.
p3eps Response:
I bought one of these about 2 years ago. I keep a couple of bikes inside, and looked at keeping my wifes future bike and mates outside. I did the self build, and thought it was pretty straight forward. My mate and I put it together in a couple of hours. Wouldn't have fancied it on my own as it's pretty heavy. Mine had holes in the floor panel for fixing it to the patio it's sitting on - so it's bolted to the ground. 2 years later, it still doesn't have a bike in it... and my wife has filled it with a childs sandpit, a small chute and all of the outdoor seats cushions! We had another baby, and she still hasn't got a bike! An expensive small storage box for the time being. It even has it's own alarm inside - which I never activate due to the low value of the contents! High quality piece of kit though.
---
SquireRides Response:
For anyone who didn't watch the video, I should add that 2 weeks ago my garden shed was broken in to and two bikes were stolen. How? Because of all the reasons I list that the start of the review! They simply (and very tidily) unscrewed the 12 screws holding the locked door on. And then cut off the anchor that was screwed in to a joist. I should have taken more measures to protect my shed (bolts replacing some of the screws; additional anchors; alarm), all tasks on my to-do list that I had not got around to doing. Needless to say my garden shed is like Fort Knox now, even though it no longer contains any bikes (and wont in future). The thieves didn't even try to get in to the Asgard shed right next to the garden shed. Bearing in mind they were clearly looking for bikes (and stole two more from a neighbour that night), and seeing as the Asgard is a bike shed, they didn't think it was worth attempting to get in to. Asgard, rated 5-stars by thieving scumbags.
---
nickd164 Response:
After having my bikes stolen from a wooden shed three years ago I decided to buy one of these. I would say 3 bikes is a tight fit especially if you have the shelves at one end. I keep just two bikes in it, but if i go away I still take my main bike out and leave it in the house... it's probably safer in the shed. I think it's well worth the money and I managed to build it myself. I also had a door put in the passage between the two terraces, together with the shed I'm hopefully confident they won't get knicked. It appears well made and sturdy.
---
mike425 Response:
I had one of the bigger Asgard sheds at my old house, it was 8ft x 5ft I think. I really rate them, also when I sold the house I sold the shed for £800 after paying £1200, so resale is good them. Regarding a ground anchor, I actually cut a hole in the floor and cemented a ground anchor into the ground to chain bikes to.
To read more comments, please see the original article.