Ealing cycle news reviews Asgard bike storage
The Addition bike shed has been designed to store 3 bikes in a safe and secure manner. This model features a great 3 point locking system for excellent security. Inside this shed you will find reinforced doors, a pick resistant lock, an integral full metal floor....
Ealing Cycling Review Asgard bike storage
The LCC newsletter for Action, Ealing, Greenford, Hanwell, Northolt, Perivale and Southall
March 2010
'The less Shed the better'
For convenience, many people now keep their bikes in their front gardens, but thieves are an ever-present danger. David Eales checks out on the latest bike sheds.
I've been keeping my bikes in my wooden shed forever, but with the addition of a recumbent trike something had to give. It was time for a new shed. I looked long and hard at Trimetal's model, but whilst looking at other offerings I came across the Asgard range.
The firm makes a selection of metal storage units, from small ones to store valuables in the home, right up to large metal sheds. In between are two units specifically designed for bikes; one to store 3 and one to 4. I plumped for the smaller one, if nothing else to stop me buying any more bikes.
The units differ from Trimental in that they are front opening rather than top, they also have a number of features that appealed to me; optional accessories such as shelving, hooks and additional wooden floor.
The order process was painless and true to their word they phoned seven days before the estimated delivery date and confirmed the precise date and time which they duly kept to.
The unassembled unit is quite daunting, nine sheets of metal and a large selection of screws, although upon closer inspection there are in fact only two types of screws, just lots of them! The instructions are clear and concise and the only tool you need is a screwdriver, given the number of screws an electric one is of great benefit. The instructions stress the base must be level and ideally on concrete or slabs, but the base is sheet metal so it could sit on earth.
I managed to construct it on my own, although the roof selection is the largest single piece and does take some strength to move it into place. The whole process took me just over an hour-and-a-half and the instructions really were clear. Each part has a sticker on it saying what it is. The doors were a little fiddly but still far easier to hand than wooden ones would be.
First impressions are good, the unit really does fit 3 bikes as the photographs show and the shelving unit makes a big difference to store the usual stuff. The whole unit feels rock solid and very secure and the lock should be enough to deter most people, the next model up allows you to add your own padlock.
The whole thing can be secured further using ground bolts and there are optional ground anchors too. Some people might be tempted to chain the bikes together to further frustrate a thief.
The unit is not cheap compared to wooden models, but it comes with a 10-year warranty and it does look the part. It's not attractive as it is a big metal box and at the end of the day, but I hope it will still be in the same condition in a few years time as it is now.
I prefer this over the Trimetal model, the shelving and hooks are a nice touch and not being top opening means you can store things on top of it. The advantage of the Trimental is that you can access any bike as the unit is top opening and you therefore don't need lots of space at the front making it ideal for narrow passage.
Still not convinced this is the shed for you? Read some of our customer reviews here
Read some of our accreditations here
Ealing cycle news reviews the Asgard 3 bike store ... guess what .. they like it!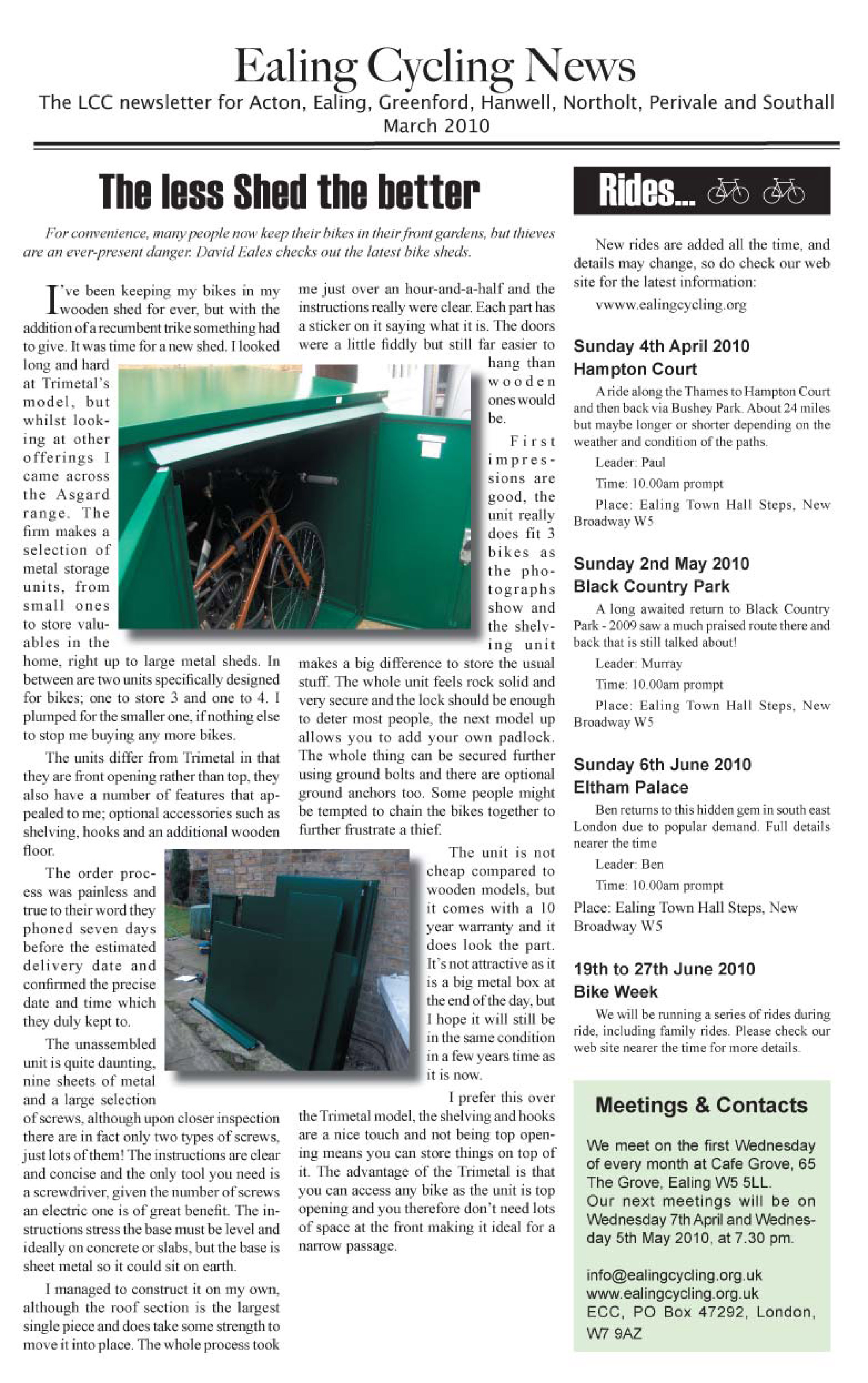 Like the 3 bike store? read a bit more here.
Cycle storage is an important part of cycle ownership. Bikes are expensive and with bike theft a constant problem across the UK, cycle security has never been so important.