Best Bike Lock names Asgard the best secure metal bike shed

Metal Bike Shed: The Secure Option
Posted: June 10, 2021
View the article on their website.
You might not usually think about metal when you think of a bike shed. Especially at home. But a metal bike shed has got a lot to offer.A good metal bike shed will be strong and resilient (even against the toughest weather), extremely secure and maintenance free. However they won't be for everyone. And a bad one can be a nightmare! So in this article we'll look at the advantages and disadvantages of metal bike sheds. And then I'll recommend some of the best that are currently available.
Advantages of Metal Bike Sheds
Metal sheds are generally very secure, offering more out of the box protection from thieves than the other options. They're very durable. They won't rot. They're insect and rodent proof. And if they're made from properly galvanized steel, they won't corrode either. And this means like plastic bike sheds they're maintenance free. You won't need to repaint or re-treat a metal shed. Just give it a wash with soapy water now and again! They're also strong and sturdy. Like wooden bike sheds, they won't be affected by wind and sun or damage from the cold or snow.
Disadvantages of Metal Bike Sheds
Many people find metal sheds visually unattractive. This will vary between different brands and models. But you certainly don't get rustic or traditional looking metal sheds! They're also more difficult to customize than wooden sheds. You wouldn't paint the outside. And it's more difficult to add shelves or hooks to the inside. Metal sheds without a ventilation system can be subject to condensation which can damage bike frames and components.
They can also be much more difficult to assemble than the other options. Partly because of their weight and partly because there tends to be many more parts. Be prepared for a full day or two of assembly involving two or people and plenty of tools! Cheap metal sheds can rust, especially in cooler, wetter climates. And once the rust takes hold it will severely weaken the structure and security of the shed.
Metal Bike Shed Buying Tips
The thickness of the steel panels used in a metal shed are a good indication of quality. Thicker panels will produce a stronger and more secure shed. The standard thickness is around 0.25 mm, which is not great to be honest. So anything thicker is an improvement! Asgard sheds for example are the thickest at 1.2 mm!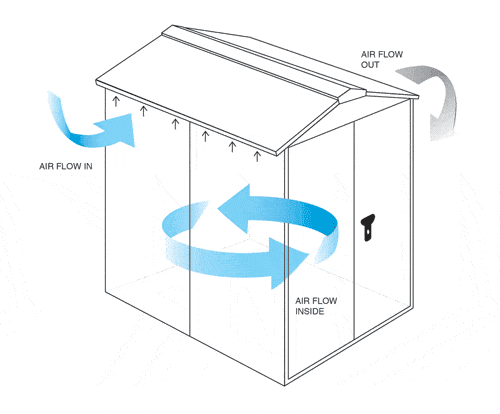 Also make sure that any shed has an adequate ventilation system to produce enough airflow to prevent condensation. Most metal sheds won't come with a floor. So you'll need to provide a level base of either concrete or paving stones. Also, I've said it before but I will say it again here: metal sheds can be complicated to construct. You'll most likely need two people, a bag full of tools and a several hours spare...But it's best to ask the seller exactly what you'll need and how long they estimate it will take before you buy!
Best Metal Bike Shed
Since a metal bike shed will take some time and effort to put together, it's not worth messing about with a cheap and flimsy model. A bargain basement metal shed will be more difficult to put together, it won't be very robust and there's a good chance it will succumb to rust after a few years. As always, it's worth spending a little bit more on something decent.
It's also worth stressing that the more expensive metal bike sheds are always more secure. And since one of the best reasons for choosing metal over another material is security, it's best not to skimp! The best metal bike sheds are made by Asgard. And if you can afford one, that's what you should go for. However, they are also very expensive! And there are some more economic alternatives that are pretty good too..
Best Metal Bike Sheds: High-End
The UK is lucky in that there are two companies making really high end, high security metal bike storage sheds. Asgard and Trimetals have been producing metal sheds for over 40 and 50 years respectively. And their bike storage solutions are aimed at those who are seeking both the highest quality and the highest security. Which brand is best? Well, that depends!
If we compare the standard models, Asgard are almost certainly the most secure. Their locking mechanisms are integrated and are always hidden away so they are difficult to attack or tamper with. And the steel panels used across all Asgard sheds are thicker than those used in the standard Trimetals sheds.
On Trimetal sheds the locking systems are external hasps which are secured by padlocks that are provided as an optional accessory. This makes the locks easier to attack and the security they offer dependent on which padlocks you buy or are provided with. Trimetals sheds are available at three different levels of security, which complicates things slightly. But the highest level of security becomes so expensive, they're not comparable to similar size Asgard sheds. And they still use exposed security fittings! What's more the idea that the thin cable that comes with Trimetals mid security "ProtectaCycle" provides any kind of protection is laughable!
Having said all that, the way the Trimetal sheds open (with one door that folds upwards) is far more graceful and accessible than anything on an Asgard shed. And ultimately it will come down to space and price. Trimetals only produce one size shed, while Asgard produce loads of different sizes. My advice is: work out the best size for your specific needs and then shop around looking for the best prices. There are often special offers to be found on both brands. Don't forget to check what comes as standard and what you need to pay extra for
If the right size and price turns out to be Trimetals, go for it. It may not be quite as secure as an Asgard out of the box, but with the right padlocks and internal security chain you can make that largely irrelevant.
Metal Bike Shed Summary
If security is a priority then there's nothing better than a metal bike shed! The good ones are built specifically with security in mind. So you know a metal bike shed will be able to protect your bike. However, metal bike sheds do have drawbacks too. Some of them will be difficult to assemble. They won't be the prettiest thing in your garden. And a good one won't be cheap.
If you can afford one, then my advice is to go for as Asgard (for the highest security) or Trimetals (for elegance and ease of use). However the Duramax is fantastic value for money and once you've got it up it will provide secure storage and easy access for up to four bikes!
---
This review is about Asgard Bike Sheds. Click here for more information.