Clever bike storage ideas from Asgard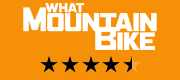 Asgard Mountain Bike Store - The professionals are so impressed they bought the unit
The Asgard Addition bike shed is made for storing 3 bikes. Made from heavy-duty steel and features a host of impressive cycle security features -
Heavy-duty locks
Thick steel construction
3 point locking
What Mountain Bike Magazine reviewed the Addition bike store - This
3 bike shed
is one of our best-selling storage units due to its sleek compact design and space for up to 3 bikes. Read What Mountain Bike's review here:
Asgard Addition Bike Store £499* - A steel thief-proof house for your bike
"The best secure bike store we've ever come across 4.5/5"
Made from 1.2mm thick galvanised steel panels, this secure bike store is one of the best we've seen and will house three complete bikes. It's easy to assemble by yourself (an assistant helps), and an electric screwdriver is essential. The unit can also be secured to a hard standing with the supplied fixings, but needs an area of level ground measuring 1990mm x 1100mm.
The unit measures 1339mm high at the front and 1444mm at the back, 1832mm wide and 924mm deep. All fixing points are sealed inside and the floor-to-ceiling three-point lock is designed to be both pick and drill proof. Since it's a large metal box, any attack will be very noisy indeed. It's certainly more expensive than a shed, but its also more secure, insurance compliant and has a 10-year warranty. IN short, we were so impressed that we bought our test unit. Matt.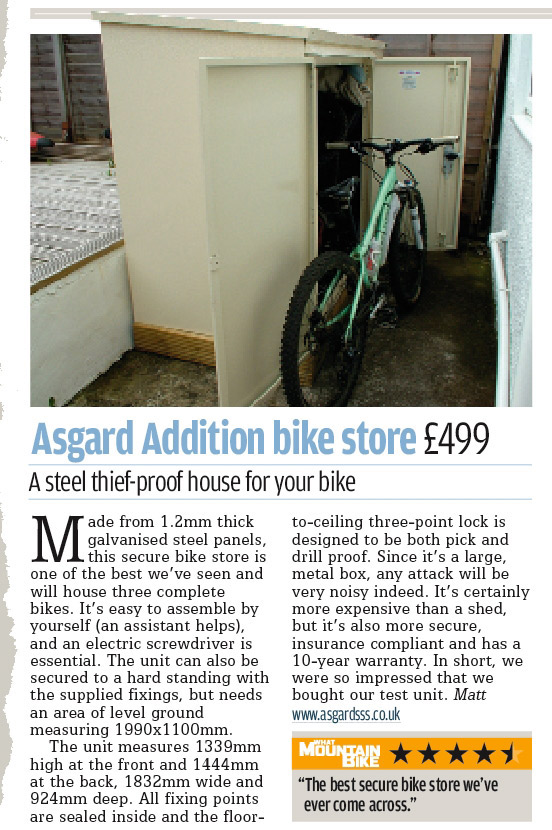 *Correct at time of writing
---
This review is about the Asgard Addition x3 Bike Shed. Click here for more information.