My Asgard shed doors won't close

My Asgard shed doors won't close
At Asgard, we often stress that it's the importance of having a firm level base prior to installing one of our bike, motorbike, or garden sheds. Our storage units are very heavy, with some weighing up to a whopping 539 stone - that calls for a solid and sturdy base! Ensuring the shed base is level not only makes installation easier but also helps to align the fixing holes, keeping the shed watertight, helping the smooth operation of the locks, and ensures the doors open and close smoothly.
What if your shed or base isn't level?
If you are having issues, don't worry too much! Our installation kits feature a number of packers, small heavy-duty plastic squares in multiple heights; 2mm, 3mm and 5mm. The packers fit under your base and can help to level the shed a little but, helping your door open and close smoothly as they should.
Please note these are NOT instead of a level base, they are just to help a little.
The number of packers supplied varies with each shed and depends upon the size and type of base.
Typical Asgard Installation Pack*
2mm, 3mm & 5mm Packers
Fixing kit to bolt the unit to your base
Various screws (Yes! There's a lot!)
Bungs to make your base watertight if you're not fixing your unit to your base
Roof Attachments
Gromit hole cover bungs
Instructions!
* Contents may vary
How do I use the Asgard packers?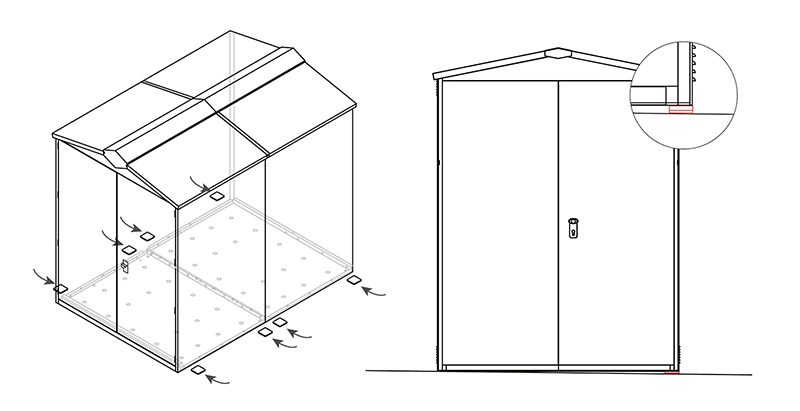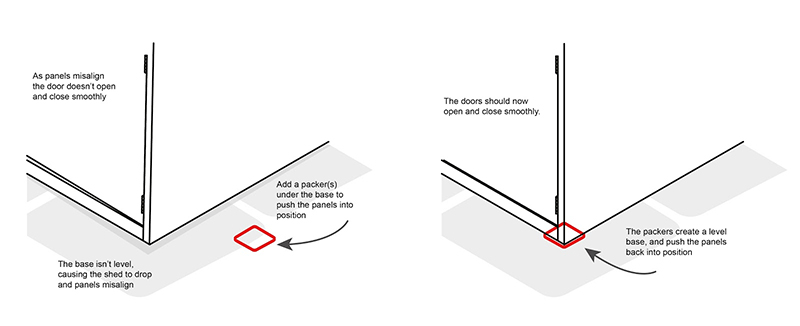 The packers can go under the corners of each section of the base where required. There is an element of trial and error to determine where the packers go to fix the issue you have, we advise trying the smallest packers first and one at each time. If possible a second pair of eyes is useful. Here are a few tips to start:
Putting packers at the back right-hand side of the shed pushes the right-hand side door up and the left-hand side door down.
Putting packers at the back left-hand side of the shed pushes the left-hand side door up and the right-hand side door down.
Before & After
Door fitment before levelling
Door fitment after levelling
This customer was struggling to close their Flexistore shed and got in touch with us. We recommended fitting a 2mm packer under the front left-hand corner to push up the corner roof panel at the front of the unit. Following by a packer at the right-hand rear afterwards if it needed more space. This corrected the issue and now he has a smooth open/close doors! - Hurrah!
If you've misplaced your packers or are still struggling with your shed, please get in touch with our Customer Service team on sales@asgardsss.co.uk or 03456 580 730