Bike maintenance and storage shed
Asgard bike shed - for cycle maintenance
We thought we had got every type of bike shed sorted - but it looks like we have missed an idea!
This customer has adapted our Gladiator shed into a bike shed and maintenance garage. Genius!! But why choose this shed??
The Gladiator is our largest standard shed - with a massive 2.2 meters of width, this unit is great for storing not only loads of bikes, but also all you maintenance equipment as well. As the unit is so wide this customer also got a work stand with his bike on, allowing him to fix his bike in the dry!
Not only is this unit great for maintenance, but it also a really secure way to keep your bikes! A five point locking mechanism (including dead bolts) a pick and drill resistant lock and heavy duty construction go together to make this a great bike store.
Find out more about Asgard cycle storage here.
Read some of our other bike storage case studies.
Asgard customer comments
"I bought your Gladiator metal shed with an ulterior motive in mind. I had seen one of these units at my children's school and could instantly see a much better use! As you can see by the attached photo I use this massive shed as a workshop by day and a bike store by night. The shed is an idea width for a bike on a bike stand, plenty of room to get around to both sides of the bike. The pitched roof gives shelter from the elements as I stand furiously oiling up the bike."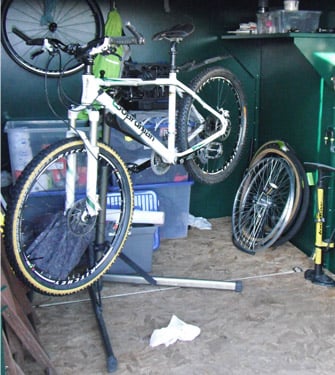 "I have mounted a shelf quite low inside the unit; this provides an excellent place to rest my tools mid maintenance. Hooks have been added to the rear of the unit (my own not yours) for hanging tubes and wheels etc."
"I'm also thinking of buying one of your extension modules to make it even bigger, and then I could keep all my riding clothes in on hooks."
"I hope this will become the ultimate bike shed"
Single-track Magazine "Comes with everything you need - You will be in Shed heaven!" - A Single Track Magazine Approved Product.
Look at our own version of the bike maintenance store as suggested by this customer.