Asgard Bike Storage in the Guardian Newspaper
Asgard in the press
Did you know that the Asgard Bike Storage range has even been featured inside the Guardian newspaper? Well you do now!
The Asgard Access Bike Storage for 4 bikes was the perfect solution for one reader's needs. The reader wrote in saying, "I am looking for a bike shed big enough to hold four bikes. We have no rear or side access to our house, so the shed would need to sit in the front garden".
To which the editor replied suggested the Access Bike Storage. Its thick galvanised steel and host of security features makes it the only solution for the front garden. It has been engineered and designed to fit and secure at least 4 bikes and the gas powered assisted lift makes it as child friendly as a shed can be.
Do you have the same problem or need something similar? Then check out our bike range here.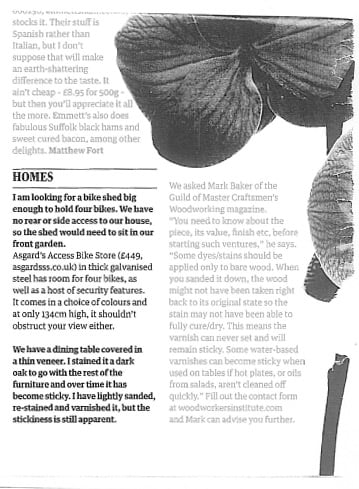 "Asgard's Access Bike Storage in thick Galavnaised steel has room for four bikes, as well as a host of security features. It comes in a choice of colours and at only 134cm high. It shouldn't obstruct you view either".
A small snippet from the Guardian newspaper for Asgard bike storage.