Bike shed for storing 4 bikes
Bike shed for storing 4 bikes - a customer view.
Installing a bicycle shed is a great way to avoid cluttering up your home or unsightly parking in the garden. A new bike shed will also enable you and your children to store your bicycles without risking them to theft or damage. Fortunately, if the thought of building your own bike shed fills you with dread, you can now buy a new Asgard Access bike shed and have it delivered to your door!
Customer comments:
The Asgard bike shed is cost-effective and convenient for the entire family, especially if you require regular access to your bikes. Andy Griggs, recommends the unit from Asgard. After recently installing the Access Bike Shed in his garden.
"I'm very happy with the Access bike store. Instructions were fine and it took very little time to build."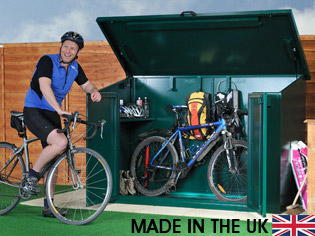 Installing the Access Bike Shed is very straightforward to build.
"I would buy this unit again as it is clearly well made. You definitely get what you pay for. Many thanks" - Andy Grigg
To see the full range of Cycle Storage units, visit the Asgard
Bicycle Storage
product page here.