How to decide on a new garden shed
Picking out a new garden shed
Choosing the right type of garden storage shed for your home can be a difficult decision. There are a few things that will need to be taken into consideration, to find the perfect shed to meet your needs.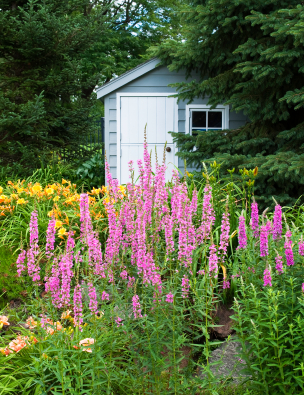 There are a few questions that you will need to ask yourself:
What type of garden shed do you want?
What size will your new garden shed be?
How much are you willing to spend?
What features are you looking for in your new garden shed?
Where do you want to locate your new shed?
Choosing the right type of garden shed for your home can be a difficult. With so many different things to take into consideration, it can be difficult to know where to start.
What material should my new garden shed be made from?
Garden storage sheds are available in a variety of materials, however metal and wood are the most popular choices.
Wooden
Wooden garden sheds are the more traditional type of shed and are widely and easily available. Wooden garden sheds appeal because of their natural appearance, which blends into garden surroundings. However wooden sheds will need regular maintenance and care, otherwise they can suffer from rot, the wood can split or warp and begin to leak water when it rains. To protect a wooden shed it will need painting every 2- 3 years and coating in a protective wood treatment.
Metal
Metal garden sheds are popular as they require very little maintenance. Metal storage units are also incredibly strong, compared to garden sheds made from other materials and in general last longer. Metal sheds are generally made from galvanised steel, aluminium or corrugated iron. Although metal storage sheds don't suffer from the same issues and wooden shed, whatever type of metal shed you choose, it should be coated to protect it from rusting over time.
Read this full Garden Shed Buyers Guide to help you find the right garden storage shed.