Sheducation: Lesson One
Garden theft is a problem that occurs worldwide and can vary from small ornaments to raided sheds. Those that have suffered from garden theft will preach that prevention really is cheaper than the cure. A while back we posted an article stating the facts about home insurance, and that in the majority of cases didn't cover garden items. Well we don't want you to have to suffer through the distress of such events.
There are many simple and effective ways to prevent garden thievery.
Get a bear. Bears are scary and guard dogs are so 2013. This picture proves it, and we've even given you a choice of bear (just in case you want to go a little more exotic).
So what other security features are found in the Centurion?
Welded Hinges
Vented Roof System
5 Point Shed Locking System
Weight Category 5
Steel Lock Shroud
Reinforced Double Doors
Integral Metal Base
On a more serious note, Thieves are opportunists looking to make a quick pound, so as simple as it sounds, looks can be a big factor. If a thief sees your garden shed and decides it looks easy to break into, chances are they'll try. Sheds like our Centurion Plus 2 are tough looking garden sheds that not only boast an array of security features but look like a nightmare to break into. The secure, 65 stone garden shed is not going anywhere. The thick galvanised steel also has reinforced panels, doors and locks.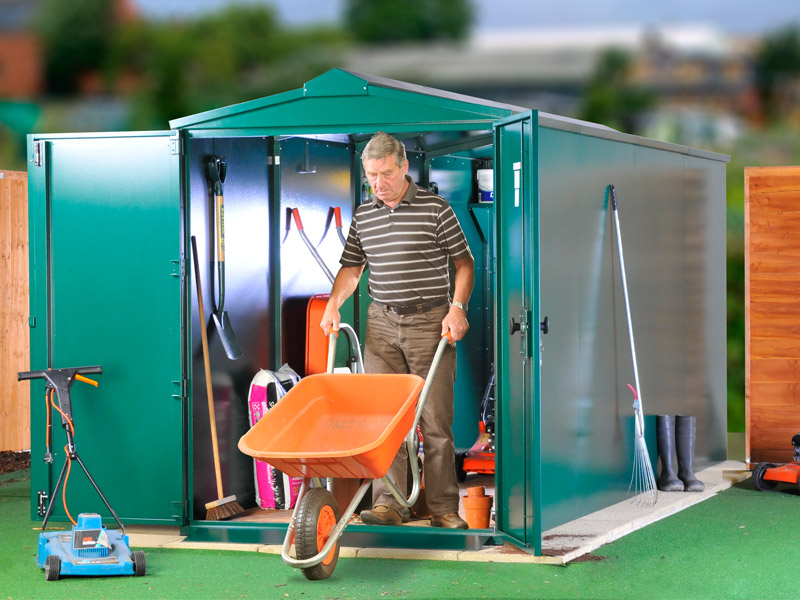 So what does a garden thief target?
Top 10 most common items that get stolen from sheds include:
Power tools and drills,
Strimmers,
Lawnmowers
Spades
Shears
Fuel in cans
Bikes
Golf clubs
Garden ornaments
Garden furniture
Spotlighting can be worth its weight in gold. If you have lighting on your driveway, you'll know first-hand how startling it can be triggering it at night. So imagine if you didn't know it was there. It's fair to say anyone with the intention of getting into your shed is going to run a million miles. The motion sensor spotlights are available from most DIY stores.
So there's your first of many lessons in #Sheducation. Keep an eye out for the second installment.