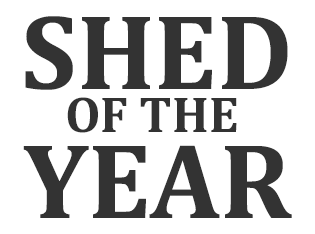 Many people are looking forward to 2015 for a vast array of reason. But a growing number of people have the 2015 Shed of the Year competition penned into their diaries. The competition has grown year on year, and even hosted its own TV show.
As the competition grows, we are seeing more intricate and amazingly creative shed designs. Quite literally anything goes! Previous winners have used boats as roofs and built sheds out of recycled windows and wood.

2014 Shed of the Year Winner
As we've mentioned a few times the 2015 competition is looking as big as ever with a vast surge of interest on the website. The great thing about the competition is that you don't need a shed to get involved. Browse through some of the incredible sheds that have been entered and vote for your favourite! Every little helps and your vote could be the deciding factor.
Despite there only being 1 overall winner, the sheds are split up into several categories, including: Eco Sheds, Garden Offices, Cabin & Summerhouses, Workshops & Studios, Unique Sheds and last but not least, Pub Sheds.
Here are some of our favourite entries;
The Bottle Dome

The Tetra Shed

The Hooting Owl
To enter the competition visit: http://www.readersheds.co.uk