Did you know that in England and Wales for the year ending June 2017, 43% of all reported crime was theft?
You work hard for what you have. You protect your family and you've earned the right to spend your money on the things that make you happy in life. Whether that be toys for the kids, a nice bike or DIY equipment, it's your stuff and you deserve it.
But there are people out there whose idea of working to get what they want is to take it from others. Of the reported theft crimes in 2016/17, 44% was theft from average people, from their homes or person. It's a frighteningly real statistic which is unsettling to say the least.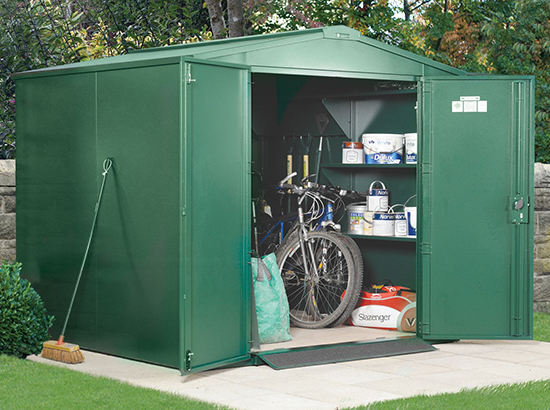 Were you one of the 3% of the population who had things stolen in 2016/17? One of nearly 2 million people in England and Wales who was a victim of this type of crime?
It may seem that it's just "things" and in some ways, this is true. But the impact of theft isn't just financial. Theft can significantly impact the emotional wellbeing of you and your family. The injustice of having your hard-earned "things" taken from you can be destructive. The vulnerability you can feel as a result of being robbed or burgled, can have devastating implications, simply because it's difficult to feel safe after something like this has happened.
Unfortunately, once successfully targeted, thieves will often re-target the same household in a matter of months; knowing that by this time the items they took will have likely been replaced, and they can take them again.
Being a victim of crime isn't something anyone should go through. Theft however, is particularly damaging and because it is more common than most other types of crime, it's important to be aware of the potential consequences of becoming a victim:
Financial loss

Emotional loss – items of sentimental value

Potential increased insurance premiums

Hassle and time dealing with the aftermath

Can result in feelings of insecurity/being unsafe

Loss of sleep and worry

Damages your sense of wellbeing
Taking things from gardens and outbuildings is the easiest target for most thieves but, there are precautions that you can take that act as both a deterrent and prevention against the theft of your hard-earned property from right under your nose.
Install Outdoor Lighting
Lighting that comes on automatically when someone enters your property is an excellent deterrent to potential theft. If a person is literally "lit up" when they come into your garden, it is sure to put them off sticking around.
Maintain your Boundaries
Quick access and egress is what thieves often look for. If you can make taking your property too much trouble, then all the better for you. Ensure you maintain the boundaries of your property with good fencing, and close gates behind you. Where you have natural boundaries, ensure you keep them in good condition; well-trimmed hedges etc. This ensures you have what the police refer to as "natural surveillance", allowing you and others to see if something is amiss.
Tidy Up
If you've been busy playing out with the kids or mowing the lawn, it's easy to let time slip away and to leave things lying around. Not only are those items more likely to be stolen if left in plain sight, you are also potentially leaving tools to assist thieves in burgling your home. Ladders, tools and heavy objects can be used to assist in breaking into areas of your home and taking other items from you. By storing your DIY tools, outdoor toys and other equipment in a safe, metal shed, you are significantly reducing the risk of theft.
Install Visible Alarm Systems
Again, when a potential thief sees that your home and property are covered by a visible alarm system, they are far less likely to approach your home as a target. In addition, CCTV cameras (both dummy and real) act as a visible deterrent to potential thieves.
Store Large Valuables Securely
Lock and secure larger valuables in a dedicated space. Here at Asgard, the Centurion and Gladiator sheds are both Police approved sheds. Keeping your valuables and expensive items secure, they come with 5-point (pick and drill resistant) locking system and feature a deadbolt system inside. Other security features include; heavy duty, reinforced doors, welded hinges and heavy-duty panel construction. An integral, full metal floor which can be bolted to a concrete base (for even more security) is an additional feature of the Gladiator metal shed.
Get Local
The benefits of good relationships with your neighbours cannot be over-estimated. Find out if you have an active Neighbourhood Watch or start your own. Even without an official neighbourhood watch scheme, good neighbourly relationships are statistically proven to reduce crime in those areas. Where communities come together to keep an eye out, you are jointly protecting each other's hard-earned homes and possessions.
Mark your Property
Do an inventory of your belongings that live outdoors and get good insurance that covers out-buildings and sheds. Declare anything that may not be covered by a standard policy and be sure to read the small print to get everything covered.
Labelling your property with your postcode and house number is a good way to deter sales of any property stolen from you. It even increases the likelihood of it being returned should it be taken. You can also register these items with Immobilise, the UK's national property register.
Store your Furniture
Out of all the items taken from outside of dwellings in Police reports for the last decade, garden and household furniture was 10 times the figure of other items taken. Putting these items safely away means they are not going to be victim to chance-thefts and walk-by grabbing. A large shed will again be perfect for storing these items in a safe, dry environment.
Quick Check
Protecting your home takes just a little time and knowhow. Remember the following: