A Mountain Trike is a specialised product that some of you may have heard about. Mountain Trike is known as 'the All-Terrain Wheelchair Company', and has even featured on BBC's Dragons Den. Creator Tim Morgan did something very few have dared to do, and declined the funding of the Dragons who offered to invest. However since the show, the company is going strong and growing faster than ever.
The Mountain Trike is built for terrains that conventional wheelchairs would find uncomfortable or in some cases even impossible to cross. The Mountain Trike can be used to cross; Woodland Paths / Snow and Ice / Festival Mud / Sandy Beaches / Gravel Drives / Cobbled Streets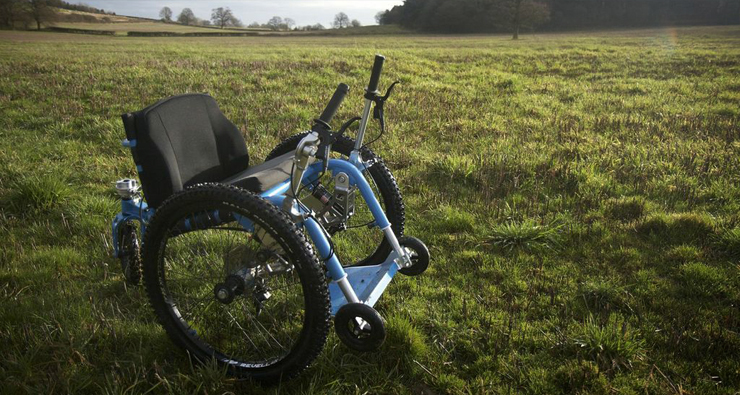 "There are a number of great features about the Mountain Trike, for a start, the drive levers not only amplify the effort you put in, but also keep your hands clean and dry, even through water and thick mud. The optimised gearing gives you good speed on flat ground and much needed gearing when climbing hills." - > Mountaintrike.com
We personally believe that this is an incredible piece of equipment which really can change the lives of those who use it. Recently at Asgard we had a very special guest spend the day with us. Richard Brooks was the first person to buy a Mountain Trike and since buying, has never looked back. Richard suffers from Multiple Sclerosis and has difficulty walking any distance. The Mountain Trike allows him the freedom to get out and about knowing a bit of rough terrain is no problem at all.
"I ride my Mountain Trike most days and feel fitter and stronger all the time! It gives me independence as I can go out anywhere with confidence that I won't get stuck." – Richard Brooks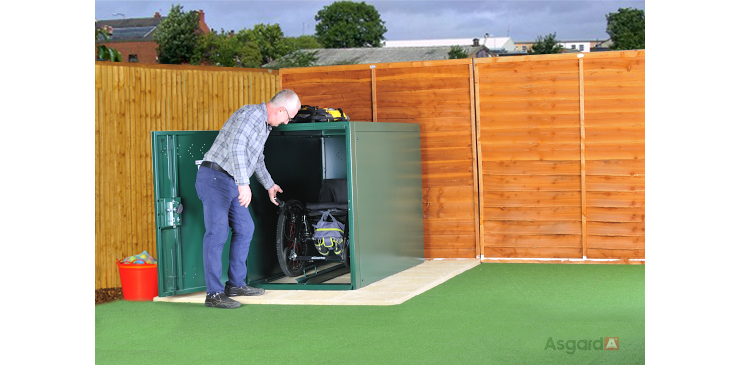 Like a mountain bike, people would rather keep it outdoors, but with this comes security problems. The Asgard Bike Storage X1 is the solution to these security problems and concerns and keeps the hallways accessible and mud-free. Made from strong galvanised steel, this particular Bike locker features an integral wheel guide that securely aligns the Mountain Trike inside for a perfect fit. Have you got a helmet and accessories to store??? Not a problem – inside you will find hooks for hanging all your accessories together with your bike. Worried about condensation??? Not a problem - Ventilation is another key aspect of the Asgard Bike Storage locker – A ventilated door allows air to flow inside the unit even when locked - minimising condensation that might cause rot and rust. Like the Mountain Trike, all Asgard bike storage is designed and manufactured in the UK, assuring you of high-quality engineering and production.
If this is the first time you've heard of the Mountain Trike, then we do hope you'll spread the word. We've already said it once or twice, but this really can change lives!
Visit Mountaintrike.com for more information.