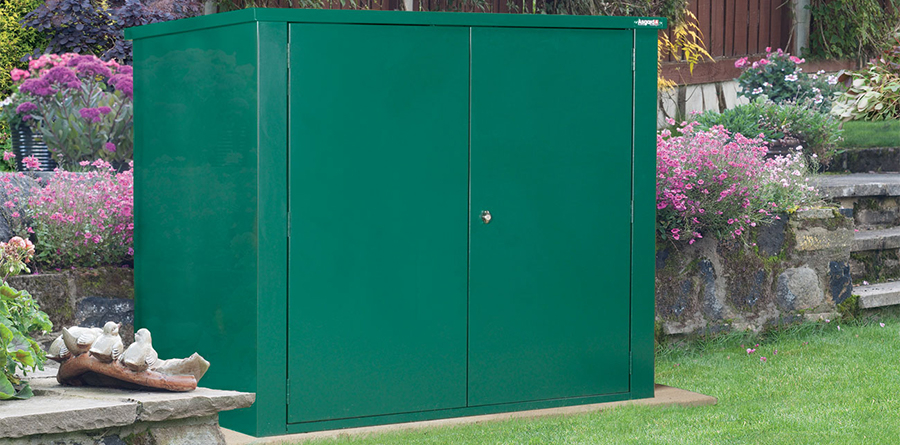 Is your garden shed weatherproof? You would think so, but that is not always the case. Shed construction is key to the longevity of a shed. For example, a timber shed will always be cheap to buy initially, even at the top end of the wooden shed world, but over time will invariably get damaged in high winds or a persistent downpour. This is simply due to the construction techniques used in wooden sheds, wood is a natural material and so defects are inherent in their nature, gaps will appear and they will leak. So we've put together a quick guide on what to check, to ensure your garden shed is weatherproof.


What to look for in a weatherproof shed: shed materials
Wooden Sheds
Wood is a natural material and requires a lot of care and attention, repainting and refelting every 2 years.
Steel Sheds
Often raw steel is used and painted to give the impression of a weatherproof shed. However, the slightest scratch will expose raw metal and will make the shed vulnerable to rust.
Plastic Sheds
Very lightweight in their construction, plastic sheds offer very little security, however, they are exceptionally cheap to buy - as little as £20 will get you a basic plastic shed. Great for the storage of low-value items.
Galvanised Steel Sheds
The process of galvanising steel makes the metal rust-resistant, offering superior protection against the weather. A heavy-duty shed made from galvanised steel will typically have a good quality locking system to keep tools and equipment safe.

---
Shed weight:
This may sound odd, but with weight comes strength and security. A plastic shed will be bottom of this list, with no weight and normally no base these are vulnerable to theft and suitable for low-value items. Wooden sheds are better as timber is heavy, so the weight does bring some security, however, wooden sheds are rarely supplied with a base, so they will always be vulnerable to leaks, and theft.
Steel sheds, again, are not as secure as you might think - a lot of steel sheds have poor quality, lightweight construction (look out for corrugated versions) and are not supplied with bases, making them vulnerable to theft and leaks. Heavy-duty, galvanised sheds are made for security and are often supplied with a full metal floor, these heavyweight sheds are usually insurance rated or police approved.



---
Are metal sheds windproof?

It might be a weird question to ask, but with Storm Gareth and others leaving destruction behind this year, it did highlight the benefits of storing your bikes, motorcycles and gardening equipment in a good quality metal shed. As you can see by this unfortunate shed owner, a windproof shed is not such an odd concept. You really do get what you pay for, buy cheap and buy twice.



Image shared by BBC - https://www.bbc.co.uk/news/uk-england-47516173
---
Condensation in sheds:


Wooden Sheds
Wooden sheds rarely get condensation, wood is a breathable material and so air will circulate around a wooden shed, keeping moisture to a minimum.
Plastic Sheds
Due to the gaps often present in plastic sheds, condensation is rare. Plastic sheds will often have built-in bases which helps to keep condensation away.
Steel Sheds
Steel sheds are the worst for condensation as it is a cold material. When hot air hits the cold air, condensation will form. Motorbike storage sheds get condensation if the bike is still hot when put away.
Ventilated Steel Sheds
Ventilated galvanised steel sheds have been designed to cope with condensation. The ventilated design will keep condensation in sheds down to a minimum as air will be circulating through the shed even when locked, keeping equipment safe and dry.



And that concludes our quick round-up! If you're looking for a weatherproof shed, make sure to consider the material, the weight of the shed and check if it's well ventilated to ensure your garden tools and accessories are safe. To find out more about the built-in ventilation in Asgard secure sheds, click here. Our motorbike storage comes with additional ventilated panels to allow fumes and moisture from your motorbike to escape.