For our monthly competition this month we have enlisted the help of cycle enthusiast and illustrator Pip Claffey. We first spotted Pip's work when we stumbled across her Instagram earlier in the year, when she released her line of illustrated cycling caps and shirts. We were instantly drawn to her work and thought it would be a great collaboration.
We now have one of her limited edition prints 'Bike Fix' to give away and think this print would be great in any bike lovers home. Pip was interviewed so we could get to know all about her inspirations.
Tell us about yourself?
I am an illustrator, printmaker, and self-confessed bicycle enthusiast based in the north west of England. I ride Road, MTB, Fixed, Folding & Vintage! Cycling and bikes are my passion, it's that inspires me and keeps my body and mind healthy. I've met some good friends through a mutual love of getting out on our bikes.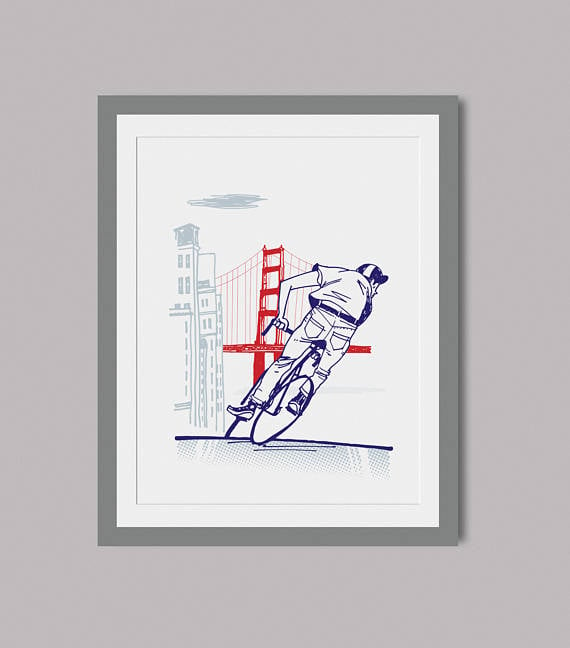 About the print, we're giving away?
"Bike Fix"
My first limited edition screenprint, run of 30.
3 colour acrylic.
Fixie culture interests me - I love the minimalist aesthetics of the bikes, but also the fearlessness of the fixie rider. This print started out as a sketch using a thick marker that gave me the line I wanted. Some sketches later, I then played around with the digital composition and colours. Once happy, I separated the colours out and got to printing. When I produced this print last year I was hiring a print studio in the Blue Coat in Liverpool. I spent 2 x 7hr sessions there producing this edition, which also involved a lot of cake and coffee consumption!


Tell us about your love of cycling?
When I'm not sketching, getting inky in the print studio or under a veritable mountain of pressing deadlines, I love to ride bikes. More recently my passion has become road cycling, I love gearing up, planning the route (and coffee and cake stops) and just being out in the countryside.
I also love riding my Brompton but tend to stick to very short journeys, it's really a bike that puts a smile on your face. I have a mate who I mountain bike with. We encourage each other to be brave (although I'm a real wimp when it comes to off-road). I bought a vintage bike a few years ago and it's a beautiful bright green Bottechia road bike, with the gears on the down tube! It's a great condition for its age (40 this year!). You have to be in a very aggressive riding position to pull the brakes!!! I bought to do Velo Retro in the Lake District this July!
I love cycling and being outdoors. It clears my head and helps me shrug off the stress of the day. It has often helped me with a problem or creative block, which sounds super cheesy but it's true. I organise my life in such a way that it enables me to ride my bike whenever I can.
What's your dream cycling trip?
I feel very lucky to be able to hire bikes and cycle a lot of the time when I am on holiday. I think it's a great way to experience a city and see so much more than you would do normally. A few years ago, I visited San Francisco and riding over the Golden Gate Bridge was a dream come true. It was a harsh city to cycle around, as the hills are crazy steep we got lost a few times and ended up being in the saddle an awful lot longer than we planned, but it was a brilliant experience and a great way to discover the city. I also love to cycle in Pollensa in Mallorca. The climate, the scenery and the tapas, it's such a brilliant place for cycling and so close to the UK. I would love to go back to California one day and cycle there some more. The scenery was just stunning. I also really like the sound of Portland and they have a great bike culture there.
What do you know about Asgard and how important is bike security to you as a cyclist?
Bikes are such a big part of my life and my pride and joy. It would be heartbreaking to have a bike stolen. Unfortunately, I know friends this has happened to and it's becoming more commonplace. With Asgard being police approved, it helps keep your mind at ease, knowing your bikes are safe and secure.
What future projects have you got lined up?
I have just finished some really fun projects which all will be happening in the Spring. I can't say too much about them, but they were brilliant to work on and took me in a different direction than I expected and I met some lovely people along the way. I'm also in the process of getting a line of merchandise sorted. Most of this I will screen print myself in my little home studio, but I'm also looking into getting enamel mugs and pin badges made etc. These will be on sale in my Etsy store in the coming months, but in the meantime, check out my print and cycling caps… www.etsy.com/uk/shop/pipjrune
I'm always on the lookout for the next cool project. If you would like to work with me, please drop me a line (pipjrune@aol.com) or you can DM me on Instagram: @pip_illustrates