Asgard is a brand name that is synonymous with secure steel storage, boasting class leading strength and security across all product ranges. But, what makes an Asgard so secure?
Sheds made by Asgard, have either a 3 point or 5 point, heavy duty locking systems integral to the shed doors and overall design. As you can see by the images below, our heavy duty locking system features a steel shrouded lock casing and 10mm solid steel dead bolts for the best in shed security.
The steel shroud is fixed to the lock and the shed door, designed to stop any would be thief smashing the lock inwards from the outside.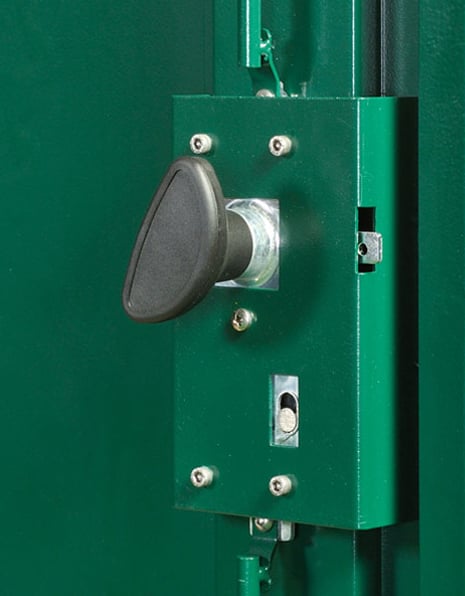 Still worried about theft??? Don't be!!! Asgard locking systems feature a 6 PIN pick and drill resistant Euro cylinder (As tested by the UK Locksmiths Association), to help to prevent those naughty garden and bike thieves.
Asgard sheds have "proper" handles for easy access, all our handles are designed to shear off in the event of an attempted break in, so any would be thief, will be left with nothing but a red face and a broken handle in their hand and you can be sure your bikes, motorbikes and gardening equipment remain safe and sound inside.
For those into the technical data - The CEN Grade 4 Euro Profile Cylinder locks fitted to Asgard sheds have the following specifications.
- Quality solid brass body and plug.
- CEN grade 4 certification.
- 30 degree offset cam inhibits knock through.
- High quality multi pin tumbler mechanism.
- Anti-pick drivers.
- Anti-drill pins.
- Anti-pick-key profile.
- Large range of key combinations.
- 3 brass keys, nickel plated.
- Available in polished brass (PB) or satin chrome (SCP).
- Available keyed to differ or keyed alike.
As with all of the security features on an Asgard shed, the locking system has been tried and tested to prove it's resistance to burglars. Many Asgard sheds are Secured by design, Insurance Approved and Locksmith approved.
If you buy an Asgard shed you can be sure that the contents will be safe and secure inside and Asgard shed and behind one of these highly secure shed locks.