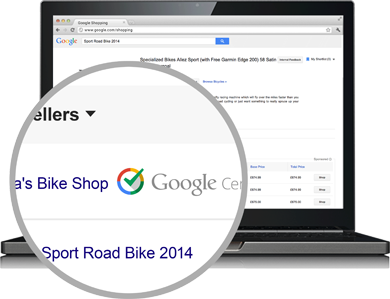 This week www.asgardsss.co.uk became a Google Certified shop. This certification can be attributed to their excellent customer service and speed of delivery.
What is a Google Certified Shop?
The scheme was launched in the UK in 2013. The Google Certified Shop is a badge that is given the ecommerce website owners, which shows customers that the site can be trusted.
The badge is granted to ecommerce websites that can prove they are fast and reliable, when it comes to shipping their products. A good record of positive feedback from customers is also a key factor in being awarded the badge.
The scheme itself has been highly successful in giving customers confidence when buying online, ever since it was first launched in the USA, back in 2012.
If you're an online business that quickly responds to and resolves customer queries, with reliable shipping, Google will be happy to give you the certification. However, you need to be on top of these things constantly, in order to offer such excellent customer service and only then will Google offer this badge of trust to your website.
Benefits for the Customer
There are a number of benefits to using a Google Certified Shop. When a customer is browsing through the products on your website, they can hover over the badge and it will then display the websites customer and shipping record. This ensures the customer that your ecommerce site can be trusted, because it makes your online business more transparent.
Google also offers customers up to £1,000 in payment protection, which means if the Google Certified Shop fails to meet the standards outlined in the certification, they will reimburse you up to the value of £1,000.
To put it simply, Google is saying to the customer that they've checked out the website and they can vouch that they are a genuine business that values their customers and takes pride in their own reputation. Asgard is now proud to hold the Google Certified Shop Badge on their site and will continue to excel at their excellent customer service.