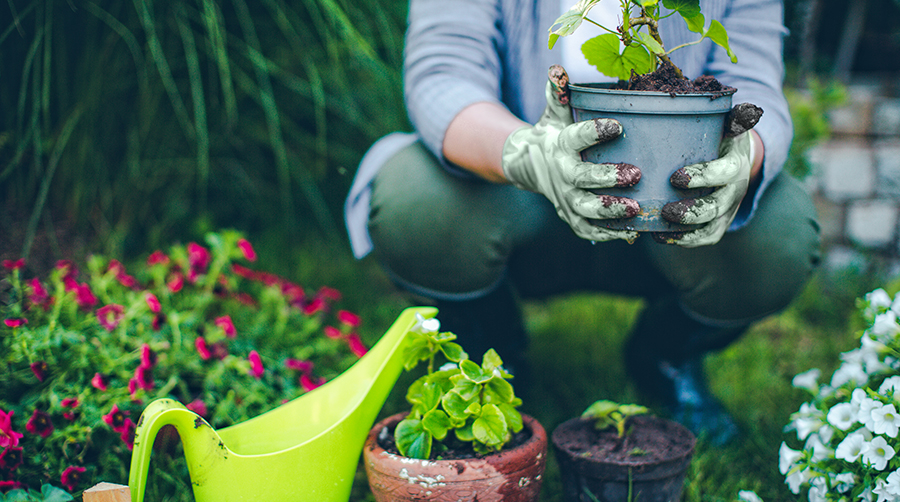 Vegetable Plots for All Year Round Produce
With the current Covid-19 pandemic causing people to panic buy and empty all the supermarket shelves and shops, many people are starting to ask themselves whether they should be growing vegetables at home to feed their families. But where do you start? Is it too late? And even if I was growing veggies at home, would I have anything to eat now anyway?
Realistically, starting to grow vegetables now won't ease the situation straight away, but we also don't know how long Covid-19 is going to cause a lockdown and shorten food supplies. If you fancy giving it a go, then now is the best time - you can order tools, equipment and seeds online, it's good for your mental health to go out and garden, plus, you are at home more to water the vegetables.
So, how to start planning your veg plot?
Firstly, we are a firm believer in only growing what you like and will eat. Growing stacks of kale even though you actually hate it, is not the best idea - and neither is telling yourself you're going to become a kale smoothie-drinking fitness freak overnight. Secondly, is to think about when there is typically a lull in fresh vegetables and what you would like to eat then, often these are March-May and winter months. It is also recommended not planting vegetables in the same spot and to mix them around to get the most out of the nutrients in the soil. There are lots of vegetable plot apps available to help you layout the design too.
Top Tips for Year-Round Fruit & Veggies
Here are a few tried and tested methods to getting all-year-round produce, the key is all in the planning:
Staggered Seedlings: Most people swear by the little-and-often approach to veg plots. Succession sowing and planting will ultimately give you a constant supply of vegetables and not end up eating the same thing solid for a week, or worse, chucking the food away. Continue to sow up to mid-summer to take advantage of the autumn growth.

Mini Varieties: Growing mini-veg varieties can help fill the food gaps as they are ready to harvest sooner than large size varieties.

Cut & Come Again Varieties: Loose-leaf lettuce and spinach beet can be picked as soon as the leaves are big enough to eat. As long as a few leaves are left on the plant, they will come again and again, giving lots of food. Okra is another option that thrives when being picked often, but it does love the heat.
Windowsills: Growing herbs and veg such as chard, cress, pea shoots, coriander, spinach, broccoli and basil on your windowsill is a great way to offer food all year round. Densely pack them on your windowsill and harvest them when they are young. John Wright also recommends placing cardboard-mounted foil behind them to increase light levels and encourage growth.




Protecting Your Veg: When the season is drawing to a close, lots of crops will carry on a little while longer if they are given protection and warmth. Consider using a fleece, low tunnels or cold frames to extend the growing season.
Pickling & Preserving: If you end up with too much of one crop, simply pickling, drying, preserving or making it into a chutney can give it a new lease of life and provide food for the cold months. Beetroots, horseradish, courgettes, tomatoes, broad beans, onions, and berries are all great options.

Perennial Plants: Tomatoes, peppers and aubergines are actually perennials although not treated as such, they just really don't like the cold. Protect them from frost and the cold and they will survive for next year. Some onion and leek varieties such as 'Egyptian walking onion' and 'Perulite' are also perennials. Kale is also a biennial plant, lasting for two years.
Plants, Shrubs, Bushes & Trees: Remember that food doesn't necessarily have to be grown in a vegetable plot. Elderflower (May - June), apple (Spring), plum (August - September), pear (August - October), and damson trees (October - 1st Frost), plus blackberry bushes (August - September) can produce fruit at different times of the year. These vary depending upon varieties and some are suitable to eat straight away, and others more suitable for jams and cordials. Be warned though, some can take a long time to bear fruit - but you've got to start somewhere!
All these tips are recommended for planning all-year-round fruit and veggies. All the growing and harvesting information is listed on each varieties pack and is a great way to start planning!
Sources:
https://www.countrylife.co.uk/gardens/gardening-tips/possible-live-off-vegetables-fruit-garden-year-round-207271
https://www.gardenorganic.org.uk/vegetables-all-year-round
https://www.growveg.co.uk/guides/6-proven-strategies-for-year-round-harvests/
https://www.onegreenplanet.org/lifestyle/perennial-plants/
https://www.gardenersworld.com/how-to/grow-plants/how-to-grow-onions/