Your shed is an important part of your home and garden, so why not decorate your shed for Halloween? Whether you're throwing a Halloween party or just wanting to spook your trick or treaters, this blog will provide you with 4 ways you can turn your garden shed into a spooktastic, eye-catching garden feature this Halloween.
Did you know, porches and homes were originally decorated at Halloween time to ward off the undead. It was thought that the decorations would stop ghouls and ghosts from entering homes on the night of 'old Hallows eve'. Iit is also believed to be the only night of the year that spirits are able to return to earth from the afterlife!
Window Stickers.




Window stickers can be added to smooth surfaces to help you scare off any unwanted ghouls and they can be very easily removed, when the holiday is over leaving no damage to your shed.
Stickers can be arranged individually around your shed. We have used blooded hand prints when decorating our Asgard Access Shed on the door, as well as the roof. Perhaps this will send a spine-tingling message from beyond the grave to keep burglars hands off our beloved bikes?
Cobwebs.
Create a creepy atmosphere by covering your Asgard metal garden shed with fake cobwebs. Nothing says creepy more than a cobweb-covered shed. Throw in some spiders (pretend of course because Asgard sheds are famously spider-proof!) and your metal shed has an instant ghastly appearance.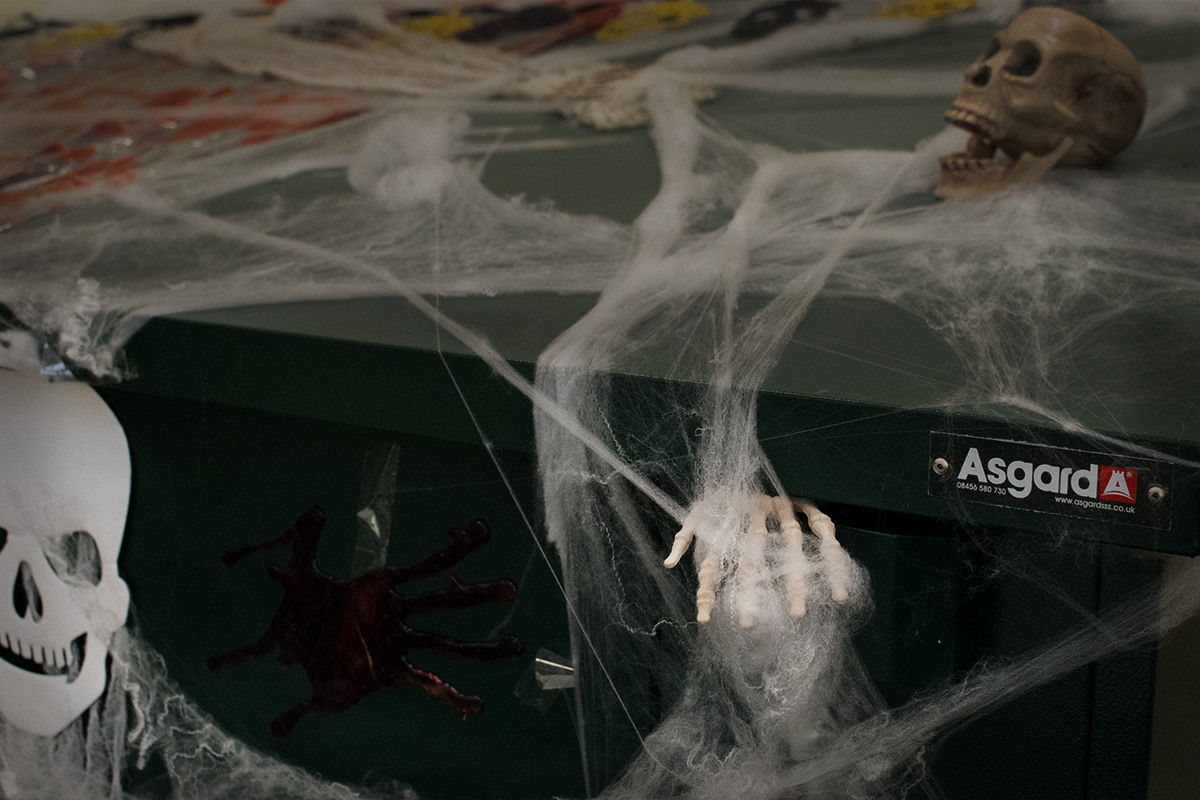 Props.
Plastic spiders, skull and skeletal hands make great props that can be placed around or on top of a shed. As our Access unit has a shallow sloped roof, it's great place to include some spooky props. We placed a fearsome skull on the top, in and amongst the terrifying cobwebs. The Access unit comes with a double shrouded locking system to help prevent forced entry. Iin the lock area we placed a terrifying skeletal hand appearing from the lock, which is a warning to any lurking zombies that might try to get into your shed.
Banners and Hanging garlands.
Spooky banners and hanging garlands can be attached to the top of your garden shed. They create an eerie appearance, when caught in the wind. Banners and garlands can be trapped in the doors of your Asgard unit or you can also use a strong tape to attach them. Use banners to wish trick or treaters a 'Happy Halloween' or scare them away with some gruesome skulls.