Building a garden shed base
Asgard sheds need a level, concrete base
Building a good base for your metal garden shed is important for getting the best from your shed. Asgard don't offer a shed base building service - so we have asked a local ex-builder to run through how to build a simple base as cheaply and quickly as possible for our Addition Bike Store.
This is just a guide - We always recommend you consult a professional builder before undertaking any works.
"In these tough economic times we are all looking to save money where we can. So, we asked a local DIY enthusiast (and ex builder) to talk us through how to put a simple base down for an Addition Bike Storage Unit. However, to make things a little harder we set him a budget.
The task was simple. Build a shed base in my garden suitable for an Addition bike storage unit for less that £50. in November *2009
The Addition bike store is the original bike storage solution from Asgard (described by Bike Radar as "The best bike storage they we have seen". Designed to house up to 3 bikes, the Addition is built from tough galvanised (weatherproof steel) and features a heavy duty 3 point locking system and its a heavy unit. So, you can't just drop this on the lawn.
Building a shed base
"The Addtion secure bike storage unit is quite a heavy unit for it's size. Heavy enough to be a deterrent to thieves but not so heavy you require an industrial grade base to sit it on.
Stage 1: Where to put it?
The Addition bike store is 1800mm x 800mm So I will be looking for a space around 2 meters x 1 meter for the actual unit, then a further 2 meters in front of the unit to allow easy access.. An area has been allocated already this is not an ideal area, there are a number of tree roots and lumps of rock in the way.
The shed base needs to be bigger than the shed
to ensure there is sufficient room to insert the optional ground bolts.
Stage 2: Mark out the area
Measure twice cut once has always been my moto. So, I have marked out roughly where the shed base will be using wooden batons.
Making a cheaper frame
Palettes come in lots of standard sizes, this one happens to be 2.1m x 1m. There are hundreds all over the place and normally free (if you ask nicely). So I simply knocked a palette apart with a hammer. I have a ready made, perfect size frame no cutting and most importantly no trip to B+Q on a bank holiday weekend.
Stage 3: Digging out
Ok I'm happy with where my base will go next I need to dig the area out with a spade.
I have dug a square of just over 2.1 m x 1 m at around 450mm deep. The ground is soft and the roots where no problem.
Stage 4: Putting my (free!) Frame into place.
This bit requires a little patience and skill. It is vital these batons are all level. Starting at the Left hand side I simply knock this side down until it is level (using a spirit level to check). Next, I put the Right Hand side in place checking it is level with the LH side using the spirit level again. Finally the front and back batons are in place and the whole frame is levelled all round.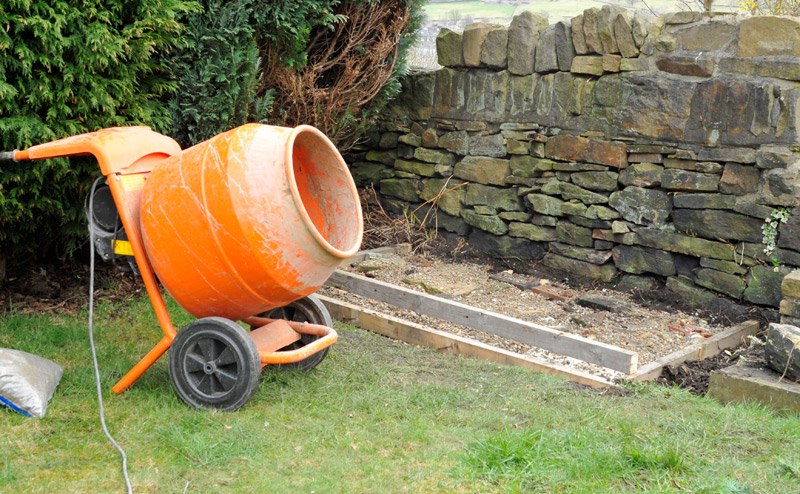 Stage 5: Mix and pour the concrete into the frame - I have again cheated here! to keep the cost down I have used flat rocks from the garden and a bag of shingle. This reduces the amount of concrete needed to fill the frame.
Stage 6: I mixed the concrete quite wet, so it virtually levels itself. A tap down with a long piece of wood to get it spot on level and thats it!
Equipment used:
Mini mixer (optional but recommended) - Spirit level - Spade - Small trowel -Tape measure
Materials used:
1 wooden pallet - Ballast (6 bags) -Cement (1 bag) - Pea shingle (1 bag) - Water (for cement)
Total construction time 1 hour (over night drying).
Total cost:
£12.85 - Optional mini mixer £20 weekend hire.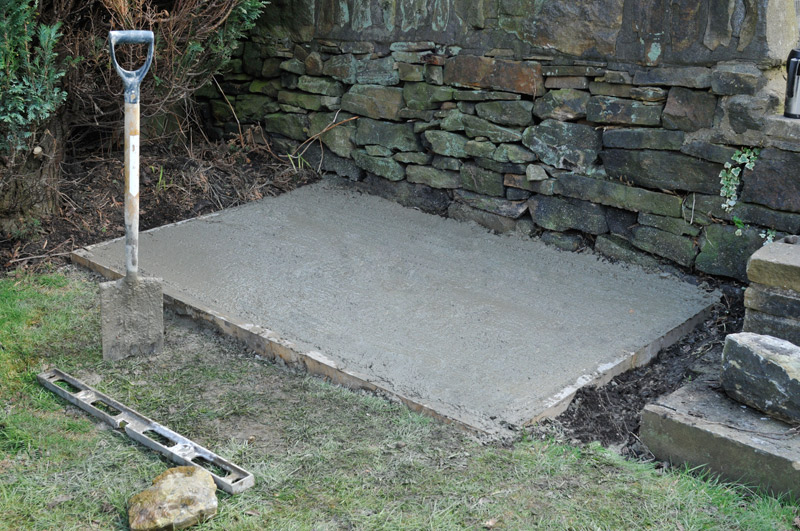 Asgard Secure Steel Storage take no responsibility for the content of this blog. This information is intended as a guide only. It is the responsibility of the reader to check all the facts before undertaking any works.
If in doubt you must contact a registered and qualified builder for information.
Average cost for a builder to lay a small concrete base £100 plus materials.
Further shed set up reading
How to bolt your Asgard shed to the ground.