Shed installation service
Asgard shed installation:
All Asgard sheds come with full instructions and are designed to be home assembly (more details>). You may however, choose the Asgard, shed installation service to save you the time and effort of assembling yourself. Whichever decision you make, please read the following advice.
Before taking delivery of your new Asgard metal shed:
Before taking delivery, we recommend that all Asgard storage sheds are situated on a firm, flat, level base. Ideally this should be 50mm concrete, tarmac or flagstones (patio). You will notice all of the products on this website site have a "base size" this is the minimum level base size we feel is appropriate for each product. a firm, flat base will ensure doors open cleanly and will make assembly of the units much easier (Why is a level base important). Here is a quick reference list of recommended shed base sizes for each Asgard shed.
Picture above - Elinor Barker - Olympic Cycling Medalist
Asgard metal shed - Self Assembly:
Asgard products are high quality, heavy gauge steel. As a result, all our metal storage is very heavy! Ensure you are physically able to construct such items before commencing work. Self assembly is straight forward, requiring 2 people (for most units) and a minimum of tools.
Ensure you have the correct tools and wear the appropriate safety equipment when tring to assemble the unit.
Ensure there is a good solid base for the metal shed to sit on. How to bolt your shed to the ground.
Asgard accept no responsibility for loss, damage or injury resulting from builing an Asgard unit.
Asgard metal shed - Installation service:
We offer an excellent full assembly and installation service. This can be selected at the checkout point on this website. Should you choose our installation option you can be assured you will receive a highly professional service from members of the Asgard installation team.
Asgard offer 3 installation services depending on the size of the product - You can add or remove installation at the check out stage, this will also calculate your price.
Please note that it is the responsibility of the customer to ensure there is an adequate base for their Asgard shed, which must be solid, level tarmac, slabs or concrete (min 2 inches thick).
If installation is required, the unit is delivered and the base is unsuitable, there will be a re-delivery charge. Asgard can not be held responsible for unwanted units once delivered. A minimum 30% admin charge will be applied if we have to collect the unit. This is subject to our standard terms and conditions.If you choose to cancel your order, you must ensure the goods are returned to us in a saleable condition. If the unit has become damaged in your possession you may be charged up to 90% of the original order value.
Planning Permission:
Asgard sheds do not normally require planning permission. However, there may be exceptions such as in a conservation area or in certain London boroughs. The customer must check with the relevant authorities prior to ordering their unit. Asgard will take no responsibility if after taking delivery a customer is asked remove the unit due to local authority regulations. Find out more >
Why does the shed base need to be bigger than the shed?
Asgard metal sheds feature an integral metal base so can be bolted down to a concrete base as an added security measure. If the shed base is built to the exact size of the shed and you attempt to bolt the shed down, the impact of the drill can cause the concrete below to break and crumble. more info
*Please note if you wish to secure/drill your optional ground anchor to the floor you will require a minimum 100mm depth of concrete. Tarmac and paving stones are not suitable. Asgard do not fit ground anchors.
Instructions for fitting a ground anchor can be found here.
Shed installation instructions:
Looking for Asgard shed Assembly Instructions? Please refer to the product page, or click here for a full list of PDF Assembly Instructions for each Asgard unit.
School Storage Delivery and Installation:
Asgard will try to schedule deliveries to schools to coincide with opening times or break times. Please indicate at time of order.
Remember - Select installation at the check out.
Our optional installation service includes:
Panel by panel inspection - To make sure the product is in perfect condition before assembly.
Full assembly - quickly and efficiently - this will include additional water proofing of all joints with silicone compound.
Anchoring - Drilling of holes and anchoring of the unit to your base. How to bolt an Asgard shed to the ground.
Inspection- Final visual inspection of the product for defects or problems.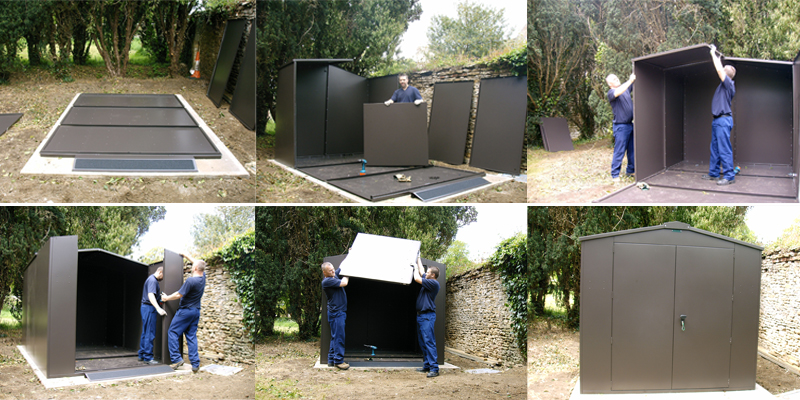 "Thank you Asgard! A very profesional installation. Highly recommended!"
Remember - Select installation at the check out. Installation - Classic, Compact, Annexe, Addition, Access, Trojan, Flexistore 1511, Vangard, Bike Locker, Twin Bike Locker. 3 x bike store, 4 x bike store.
Assembly and anchoring is available at a charge of £150.00 (Inc.VAT) per unit. If you require this service please specify when you place your order. Asgard Secure Storage will contact you before delivery to arrange the date of installation. Please note that before installation can take place a level, firm surface will be required. You may already have this available (e.g. concrete, tarmac, patio), but if not lay concrete or slabs (50mm/2" thick) before installation.
Remember - Select installation at the check out. Installation - Centurion Plus, Gladiator Plus, Motorcycle garage, Flexistore 1522, 1533, Motorcycle Garage Plus, Cycle maintenance shed.
Assembly and anchoring is available at a charge of £200.00 (Inc VAT) for the above. If extensions are ordered separately from the unit, please note the following installation charges; 1 Extension £200.00 (Inc VAT) 2 Extensions £250.00 (Inc VAT) 3 Extensions £300.00 (Inc VAT) It is recommended that two people assemble these items if you do not choose the assembly option. See above details relating to required surface requirements.
Remember - Select installation at the check out. Installation - Gas Storage, Home Delivery, Universal Units, Vertical Bike Lockers and Under Caravan Storage. The above units are supplied ready assembled.