Features of Asgard Large Metal Sheds
Large metal storage units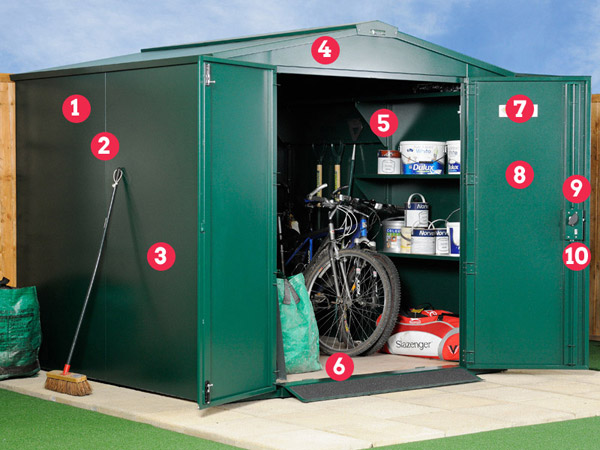 1. Galvanised steel
All Asgard metal garden sheds are made from Weatherproof steel, for the toughest storage.
2. No exposed screws
There are no dangerous exposed screws or sharp edges.
3. Easy assembly
Even though they are big, Asgard large metal garden sheds are easy to assemble and come with step by step instructions. An installation service is also available.
4. Accessories
Shed accessories such as hooks and shelves are available to purchase and allow you to maximise your storage space.
5. Ventilation system
Asgard sheds are fitted with a unique ventilation system to minimise condensation.
6. Integral metal floor
The integral metal floor adds more security to the metal shed.
7. Low maintenance
Metal sheds are low maintenance.
8. 10 year warranty
All Asgard sheds are suuplied with a 10yr warranty as standard.
9. Pick resistant locking mechanism
This pick resistant locking mechanism helps keep your stored items safe.
10. Tough locking system
Tough locking systems help keep thieves away!