10 tips on Cycling and Storing your Bike through the Winter.
Winter can be a tough time for cyclists, whether your planning on storing your bikes till the warmer months or using your bike for your daily commute. Bikes are generally low maintenance when it comes to storing them during the winter.
It's important to us, here at Asgard that we can provide a storage solution that's dry, secure and safe for our customers to store their cycles during the colder months.
We often get asked about how to prevent condensation from building up within your shed during wet, cold weather, there is the number of things that you can do to help prevent this.
The location of your bike storage unit is important, try not to place your metal shed too close to trees and shrubbery in your garden, this can increase the chance of condensation. The trees and plants give off moisture during the night, and moisture can get into your bike storage through the unique ventilation holes within your Asgard unit if this starts to happen try to trim hedges and trees.
Make sure your bike is dry and clean before storing your bike away before your next ride, storing a muddy, wet, dirty bike can cause corrosion to your bike frame and also allow moisture to build within your storage.
Asgard Bike storage units have a metal floor to help stop moisture rising from the floor below. Our metals shed can be fitted with an optional wooden floor this helps to prevent moisture been drawn up from the concrete floor below your metal shed damaging and ageing your tyres prematurely.
It's important to remember that cold weather itself can not cause damage to your bike, damage occurs when a bicycle is taken from a warm temperature to a cold temperature repeatedly, the key is to store your bike somewhere the same temperature as outside, like a metal bike storage.
We have also created a handy infographic with our 10 top tips on how to stay happy and safe on your bike when cycling during the colder months. This infographic should help you winterproof your riding and help you keep active throughout the winter.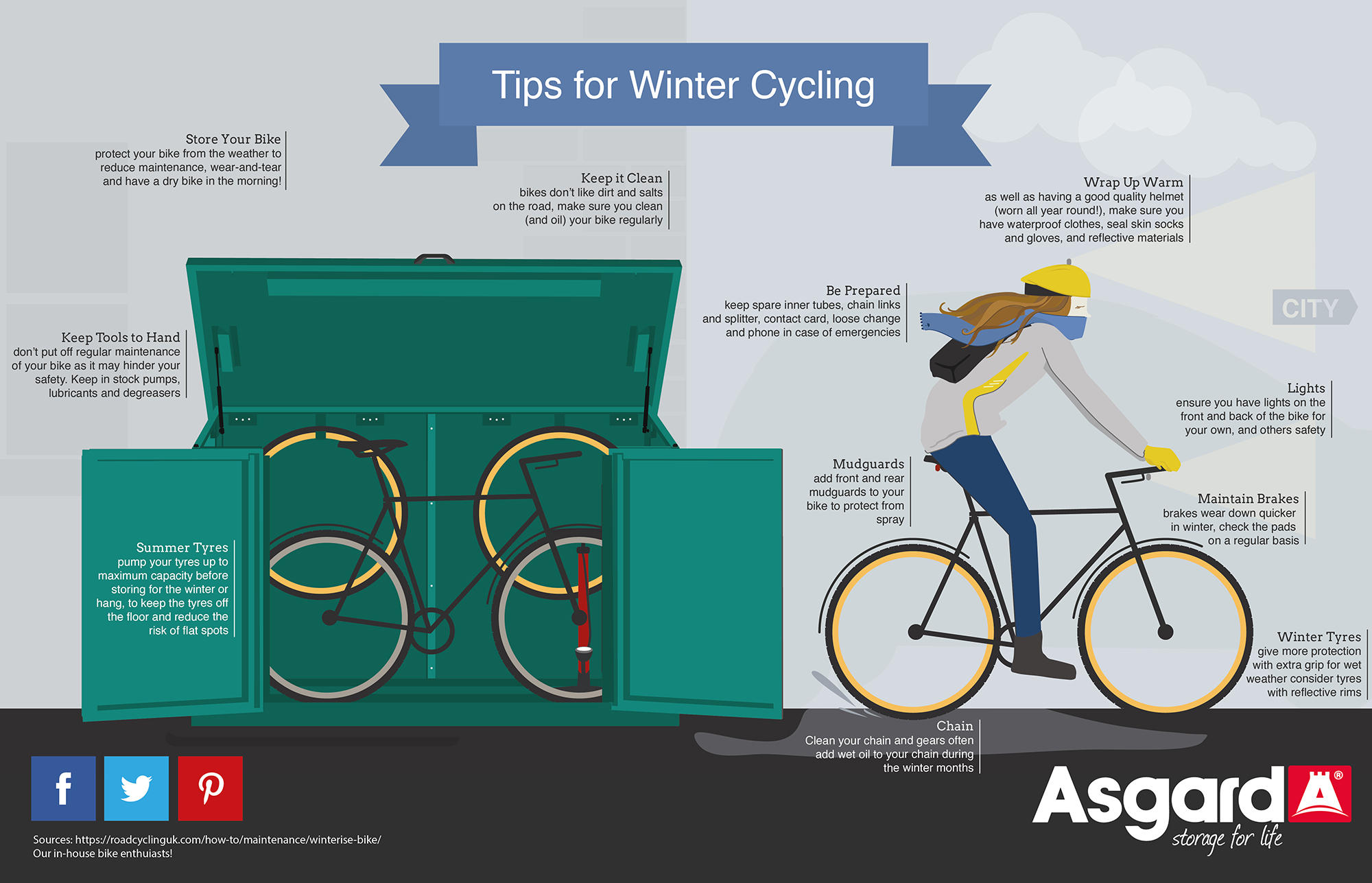 « Back to all Blogs