Why get mobility scooter insurance?
Insurance for your mobility scooter
Would you be lost without your mobility scooter? Don't lose your form of transport and mobility. Mobility scooter insurance is important, especially if it means potentially losing your means of transport. Mobility scooter theft has been copping up increasing in the news, so having full protection for your scooter just in case is a must have!
Thieves usually strike when mobility scooters are left outside the home, but so many people leave them there for easy reach, what may seem like a good idea to being with, may turn out to be a big mistake. Leaving anything of value outside in the open leaves it within easy reach for thieves and these thefts are usually opportunistic.
Insurance for your mobility scooter will only be effective if your scooter is left properly secured when not in use. When at home, make sure you lock your scooter in a secure garage, shed or in your house if you are able to.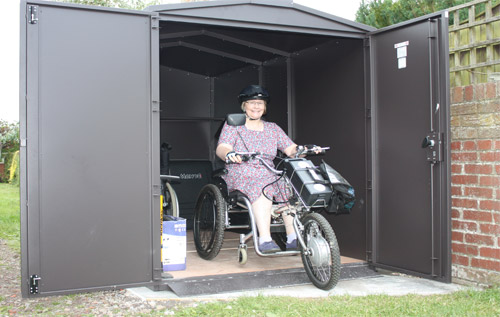 Keeping your mobility scooter safe
If you don't own a garage or a shed and have nowhere safe to leave your mobility scooter, help is at hand! Here at Asgard, our mobility scooter garages have been keeping mobility scooter across the nation safe.
Like all of our units, our mobility scooter garage is made from strong weatherproof steel. For security, this metal garage also features a pick resistant lock and a tough 5 point locking system. All of these features combined help to keep thieves at bay, leaving your scooter safe.
Find out more about our Mobility Scooter Garage.