What is a shed?
What is a shed?
To us here at Asgard a shed is everything. We design sheds, we make sheds, we love sheds of all sizes and shapes, sheds for tool storage, sheds for bike storage even a shed for storing your motorbike. But what is the actual 'proper' meaning ofthe word shed?
A shed is typically a simple, single- story structure in a back garden or on an allotment that is used for storage, hobbies, or as a workshop. The modern Oxford English Dictionary (OED) defines sheds as a "slight structure built for shelter or storage, or for use as a workshop, either a separate building or attached to a permanent building as a lean-to; often with open front or sides.
Sheds vary considerably in the complexity of their construction and their size, from small open-sided tin-roofed structures to large wood-framed sheds with shingled roofs, windows, and electrical outlets. Sheds used on farms or in industry can be large structures.
Shed Types:
Small domestic sheds
The simplest, least expensive sheds are available in kit form. Both shed kits and"do-it-yourself" plans are available for wooden sheds. Sheds are used to store home and garden tools and equipment such as push lawn mowers, lawn tractors, and gardening supplies. In addition, sheds can be used to store items or products that are not suitable for indoor storage, such as gasoline,pesticides, or herbicides.
For homes with small gardens or modest storage needs, there are several types of very small sheds. These include corner sheds, which fit into a corner (3" tall x 3" wide x 2" deep), vertical sheds(5" tall x 3" wide x 4"deep), horizontal sheds(3" tall x 5" wide x 4"deep), and tool sheds. When a shed is used for tool storage, shelves and hooks are often used to maximize the storage space. Gambrel-style roofed sheds, which resemble a Dutch-style barn have a high sloping roofline which increases storage space in the 'loft'. Another style of small shed is the salt box-style shed.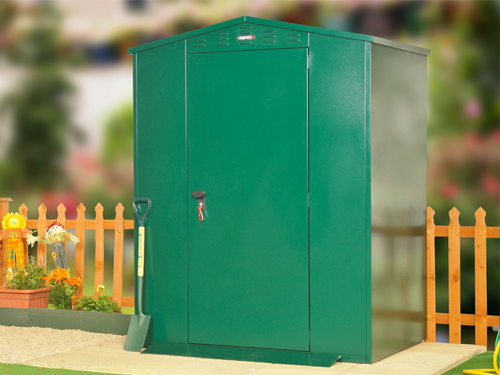 Larger domestic sheds
Larger, more expensive sheds are typically constructed of wood and include features typically found in house construction, such as windows, a shingled roof, and electrical outlets. Larger sheds provide more space for engaging in hobbies such as gardening, small engine repair, or tinkering. Some sheds have small porches or include furniture, which allows them to be used for relaxation purposes. In some cases, teleworkers and home workers in general who live in mild climates use small- to medium-sized wooden garden sheds as outdoor offices. There is a growing industry in providing "off the peg" garden offices to caterfor this demand, particularly in the UK but also in the US. Shed owners can customize wooden sheds to match the features (e.g., siding,trim, etc.) of the main house. A number of decorative options canbe added to sheds, such as dormers, shutters, flower boxes, finials, and weather vanes. As well, practical options can be added such as benches, ramps, ventilation systems (e.g., incases where a swimming pool heater is installed in a shed), and electric lighting. Sheds designed for gardening,called "potting sheds", often feature windows or skylights for illumination, ventilation grilles, and a potter's bench for mixing soil and re-potting plants.
Specific-use sheds
Bike sheds (also called bicycle sheds) usually contain a framework on which bikes can be supported and locked. Bike sheds range from little more than a supported roof to more complex structures with walls and locking doors.
Boat sheds (also called boat sheds) are lockable wooden sheds built near a body of water to store small private boats,bathing suits, and related items. Boat sheds used for rowing clubs are large structures for storing skiffs.
Tool sheds
Tool sheds are often found on allotments, where rakes, lawnmowers and other high value equipment is kept. Often several thousand pounds of equipment can be found in these often poorly constructed wooden structures.
Agricultural sheds
Farm sheds and other out buildings are used to store farm equipment, tractors, tools, hay,and supplies, or to house horses, cattle, poultry or other farm animals. Run-in sheds are three-sided structures with an open face used for horses and cattle.
Shearing sheds can be large sheds found on sheep stations to accommodate large-scale sheep shearing.
Lawn Mower sheds
Not a commonsite in the UK. These are often large structures suitable for ride on mowers. Often the mowers will be kept with fuel and basic maintenance equipment. So these sheds often need to be very secure.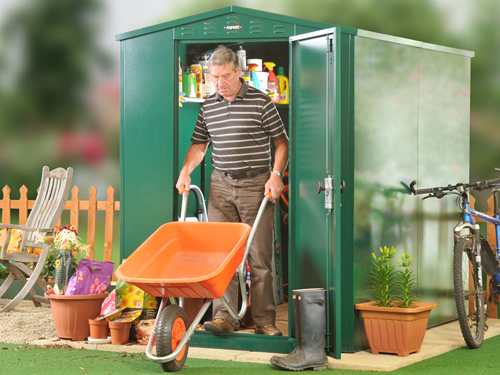 Railway sheds
Engine sheds are structures used for the maintenance or storage of railway locomotives. In Britain these are also called Motive Power Depots.
Goods sheds are railway buildings designed for storing goods before or after carriage in atrain.
Train sheds are buildings adjacent to a railway station where the tracks and platforms arecovered by a roof. The first train shed was built in 1830 at Liverpool's CrownStreet Station.
Snow sheds are strongly-built timber or reinforced concrete tunnels that protect railroadtracks (or roads) from avalanches.
Miscellaneous sheds
In 19th century military barracks, sheds wereused as auxiliary buildings for various purposes. The Royal Artillery park barracks in Halifax used sheds as gun sheds, carriage sheds, repair sheds, wheel sheds,wagon sheds and storage sheds
Asgard secure steel storage- the no1 UK manufacturer's of metal sheds.
Thanks to the internet for this information!