Oxford Bike Chain Locks and Ground Anchors
Make sure your bicycle is always kept secured when not in use by using good quality bike locks. Read the full article on Bike Chain Locks and Ground Anchors on the
Shedforce Blog
.
Cycling is all about being free and riding in the wind but unfortunately there is a serious element to bikes and that is the risk of bike theft.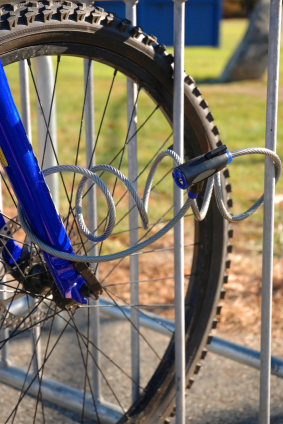 Are you using your bicycle lock correctly?
According to a study by the insurance company Direct Line, 1,200 bikes are stolen every day (Source:
BBC News
). Most of those cycles are stolen because they are either left unlocked for a short period of time or are not correctly secured. And even when bicycle locks have been used, some locks will be picked or broken by thieves who can spot cheap, poor-quality locks because they are easily broken into. By purchasing a suitable, robust lock and using it correctly, most cycle theft can be prevented.
Choosing the right bike lock
When purchasing a lock, the best rule-of-thumb is to spend at least 10% of the cost of your cycle on the lock and never to spend less than £20 on the lock. We also recommend choosing a keylock - combination locks are very easy to break into and offer little security to the professional bike thief.
Once you have a suitable heavy duty lock, make sure you are using it correctly. To properly lock your bicycle, simply loop the chain through the frame, and round an immovable object.
"Through the frame" means through a closed section of the bicycle frame, such as the front triangle. Additionally, if the lock can also pass through a wheel, it provides additional security.
"Round an immovable object" means anything which is bolted down, such as a cycle rack or an iron railing.
If your immovable object is a signpost, be sure that the cycle and lock cannot be lifted over the top of the post. Additionally, a cable (with loops at each end) and a tough padlock is useful when locking a cycle to a larger object such as a lamppost or road sign.
Oxford Bike Lock Sale!
Asgard offer a range of high quality bike security locks to suit your needs, ranging from
Sold Secure
approved Ground Anchors for Motorbikes and Bicycles, to portable bike locks such as the Nemesis bike lock, the Oxford Loop Lock, and the Hardcore Bike Chain.

To see a range of heavy duty, secure bike chains and ground anchors for your bicycle, see the main
Bike Lock
product page.