Metal Garden Shed Reviews
Metal Garden Shed Customer Reviews + Case Studies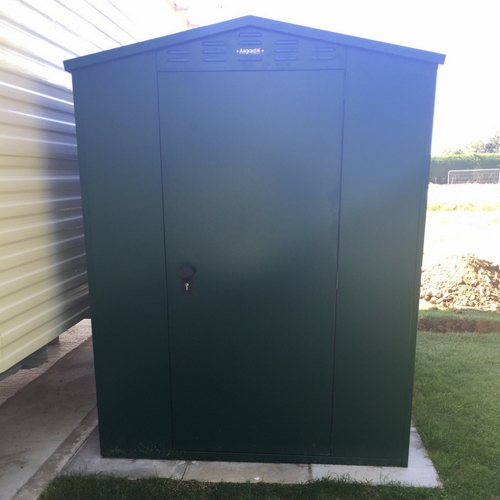 The Asgard Flexistore 5 x 7 Shed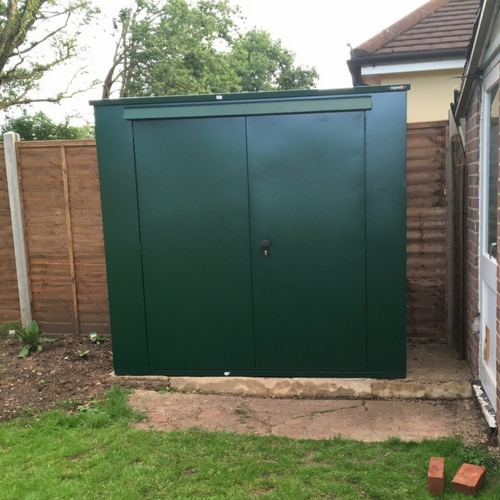 The Asgard Trojan Plus 7x3 Metal Shed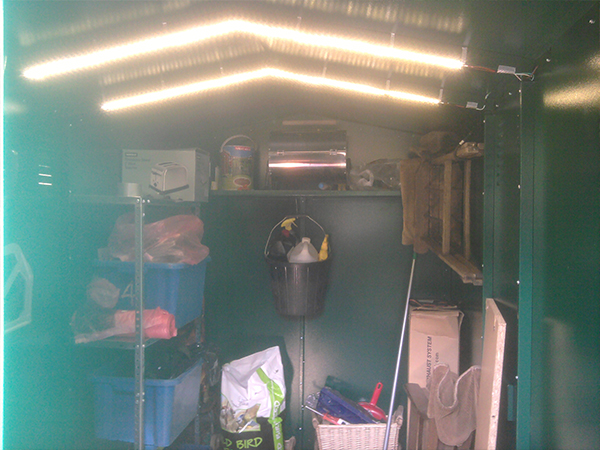 A former shed of the month winner - A fully illuminated Asgard garage!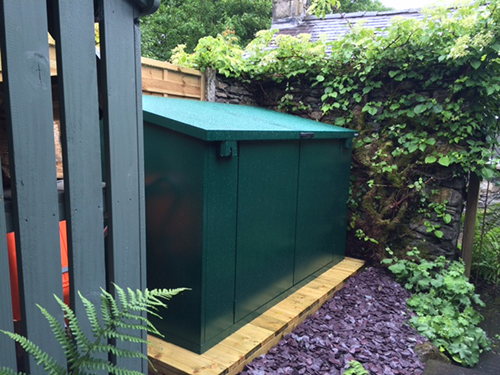 The Access Garden Shed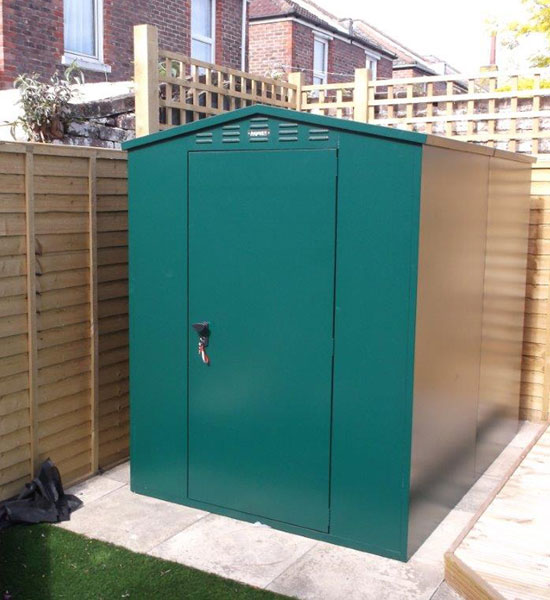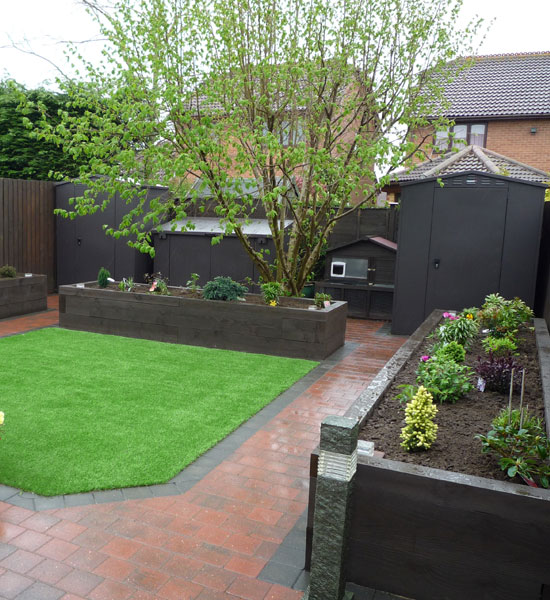 An Asgard Access and two Flexistore sheds in Brown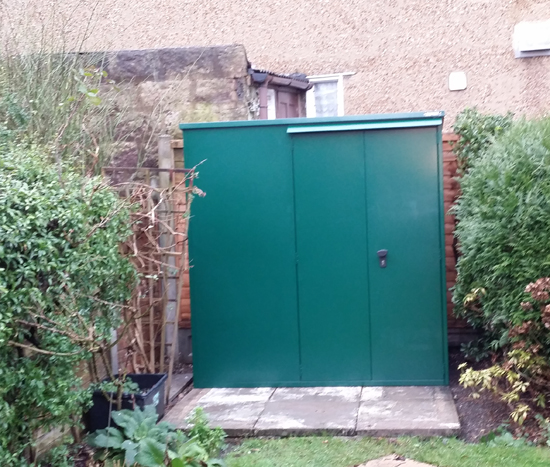 I couldn't be happier with the purchase two guys turned up on time and put the shed together very quickly considering they bolted it to the floor as well. The build quality of the shed is excellent and would definitely purchase from Asgard directly again. Don't buy a wooden shed they're pointless when you can buy one of these. Tim
The Addition Metal Garden Shed - In Our Most Popular Dark Green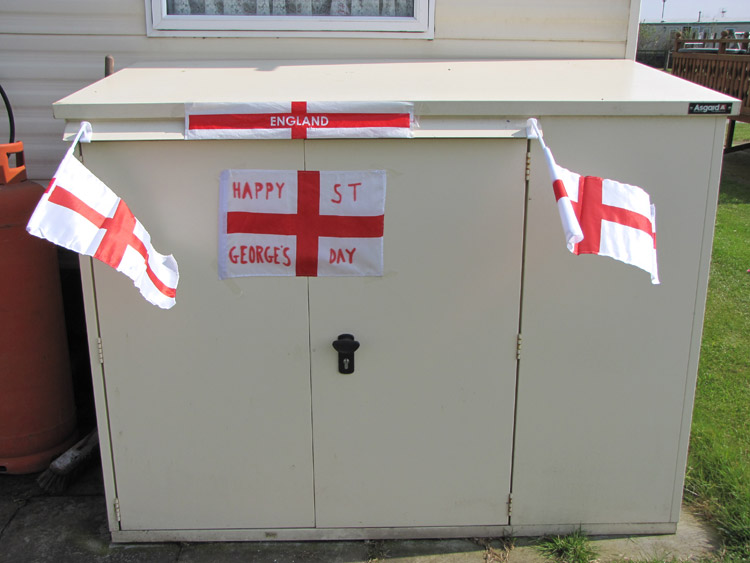 Asgard sheds - Made here in the UK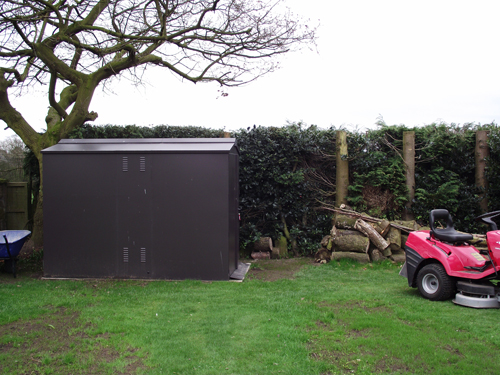 Got a big ride on mower? Then you need a big ride on mower shed! See here>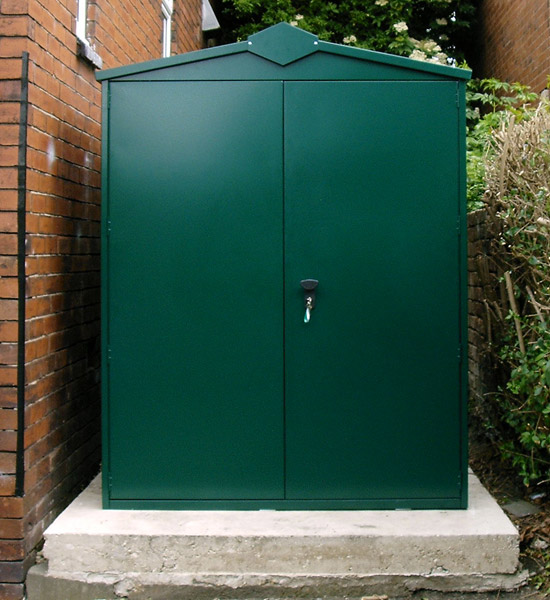 Showing that you can put a shed anywhere! Our Centurion garden storage shed looks fantastic, fitted down the side of this house.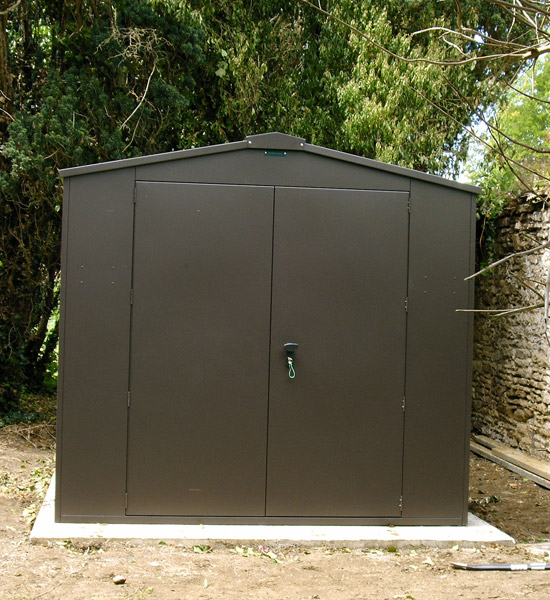 This monster of a shed is our large Gladiator storage unit. To keep your expensive items secure, this unit has reinforced doors, hinges and panels and a strong 5 point locking system. With this metal shed, thieves are sure to fail.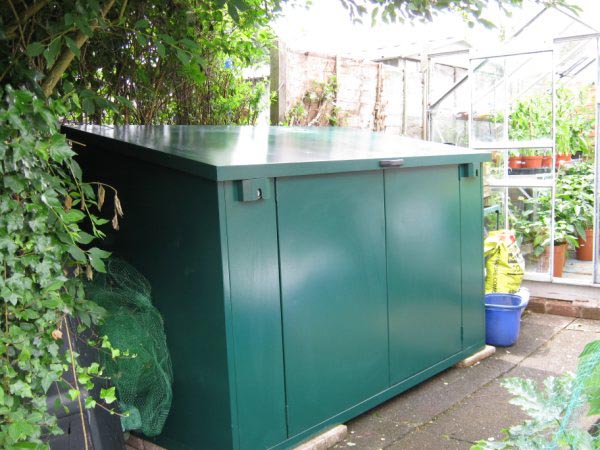 This Access is one of our most popular sheds and looking at it, it's easy to see why. It's size makes it easy to tuck away in a corner, but you'll find all of your stored items easy to reach as this shed features an easy to lift up lid and front opening double doors. Simple, secure garden storage reviewed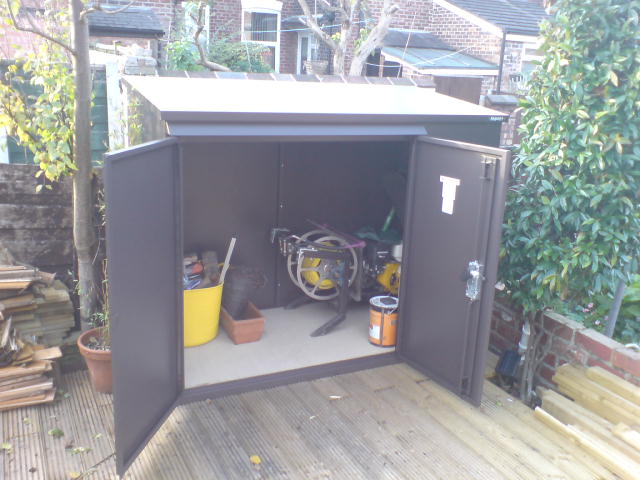 Although green is our most popular colour with our customers, this customers shed proved that the dark brown option looks just as good! Asgard garden sheds are available in a choice of colours for stylish storage.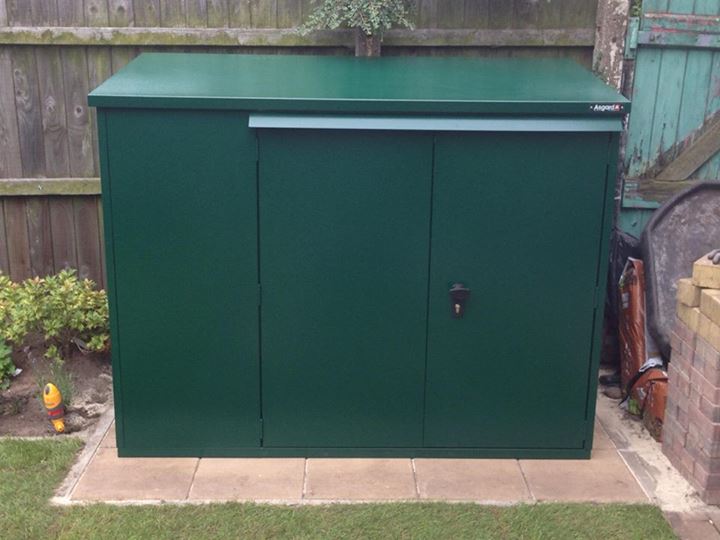 This Asgard customer has perfectly demonstrated how to create a firm level base. All of our metal storage units need to be placed on a firm level base of either concrete or paving slabs. For additional security, these sheds can be bolted down to prevent thieves from trying to carry them away. The shed looks pretty good too, even if we do say so ourselves!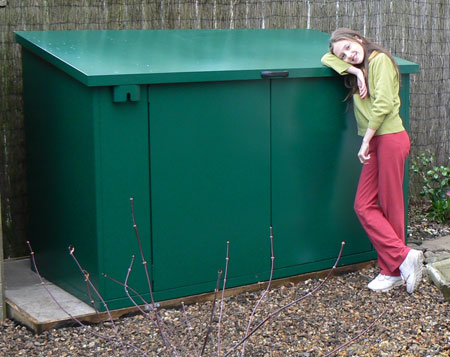 Our sheds are all built from the inside out and inside of our units you'll find no exposed screw ends or sharp edges, making these sheds safe for children to use.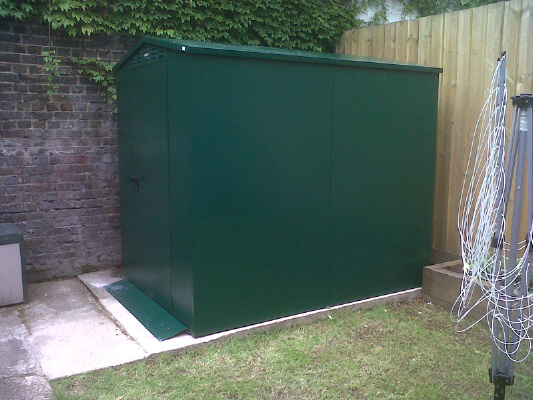 You'd be surprised at how well our steel sheds blend into any garden. This Flexistore 1522 fits well into the corner of this customers garden.
"My shed was delivered today and installed by your team, feedback was that they were very helpful and friendly" Alan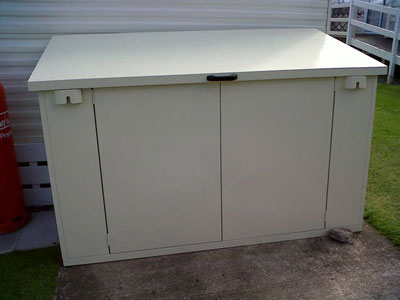 We have a selection of caravan storage units, which have been designed to give you additional storage space for your seasonal items such as outdoor furniture and BBQ's. Here you can see one of our caravan storage units in ivory, the most popular colour for our caravan customers. "it not only looks good and blends perfectly with the caravan" Our sheds even look good in the snow! Unlike wooden garden sheds, Asgard metal sheds can stand up to the toughest in weather conditions. A bit of snow is no match and you'll find that all of your stored items are kept nice and dry. Interested in the snowbound shed?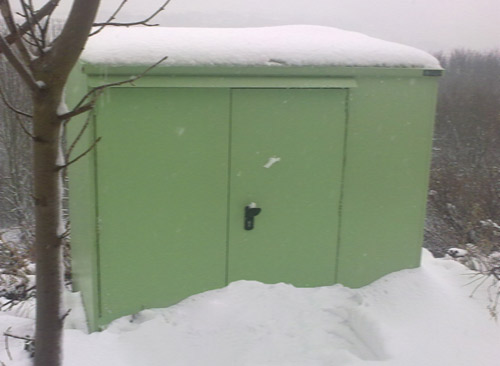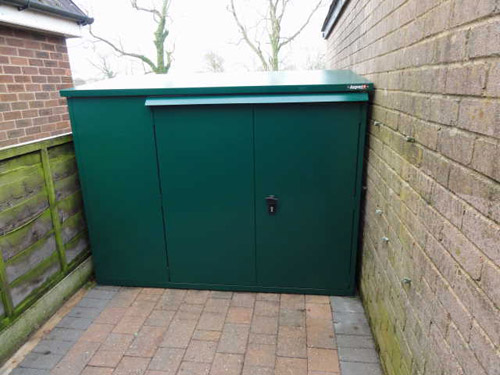 If you're short on room our compact metal sheds can fit into the smallest of spaces. This customer managed to build their shed between their garden fence and their garage. So no matter what size shed you need, we'll have something for you.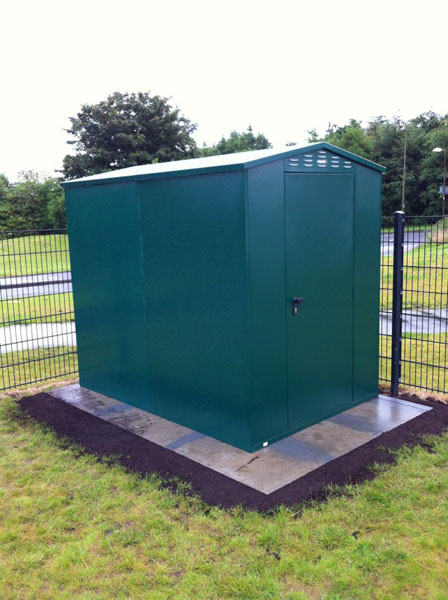 It isn't just individuals that purchase from us, we sell quite a lot of our storage units to schools and companies. Here our Flexistore garden shed has made its way to a local nursery. The Flexistore 1522 metal garden shed review.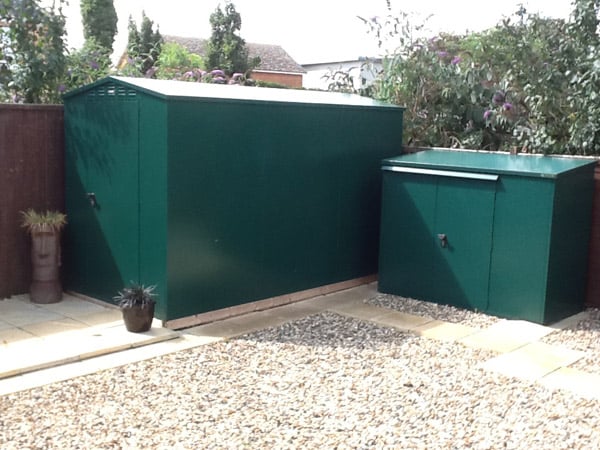 This customer loved his steel shed so much, they bought two! It's not uncommon for our customers to make a repeat purchase when their storage situations change. This just shows the high quality and value that our sheds provide. Each of our metal storage units are supplied with a 10 year warranty, so you don't have to worry about a thing. This customer has a Flexistore 1533 and an Addition garden shed. Read more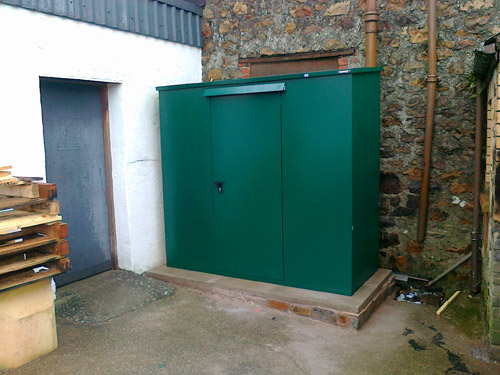 Metal sheds at Asgard come in a range of shapes, sizes and colours. Our Trojan metal shed is one of our tall garden storage units, ideal for storing bigger items such as ladders and fishing poles. Read the feedback here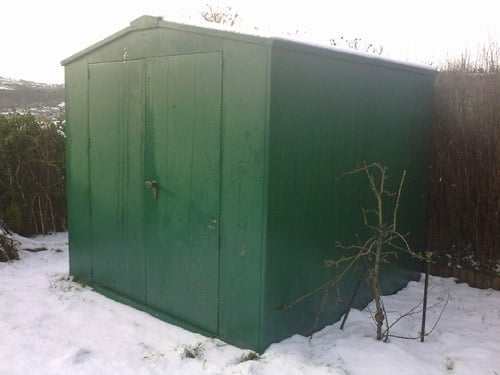 Asgard sheds can handle any weather rain or shine, hot or cold, Asgard sheds can take it all! You won't even have to worry about carrying out regular maintenance as you'll find our sheds rarely need any, just the occasional wipe down. Learn more about this customers shed.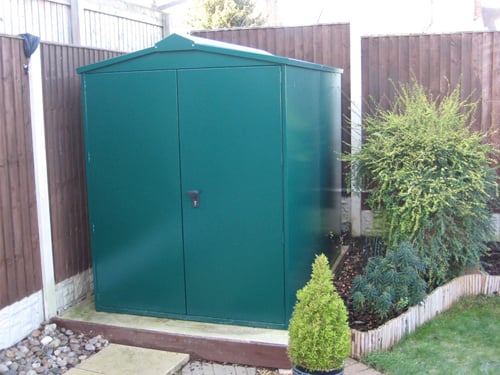 The Centurion garden shed is one of our first designs and still a top seller. This customer has demonstrated just how to blend one of our sheds into your garden, making it seem like it has always been there.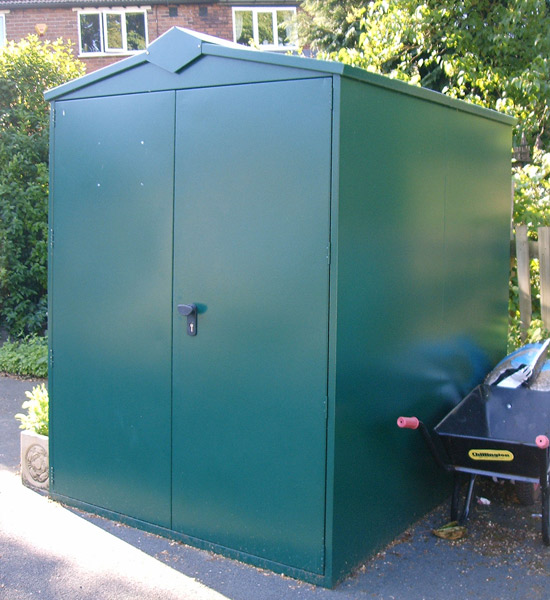 The Centurion Garden Store. Great for the home or the school.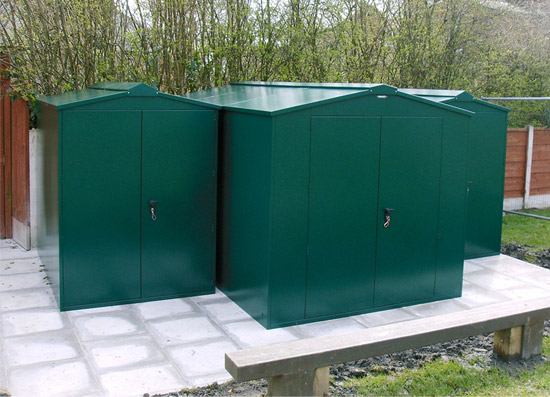 When one Asgard shed just won't do! Here we have two Centurions and one Gladiator shed.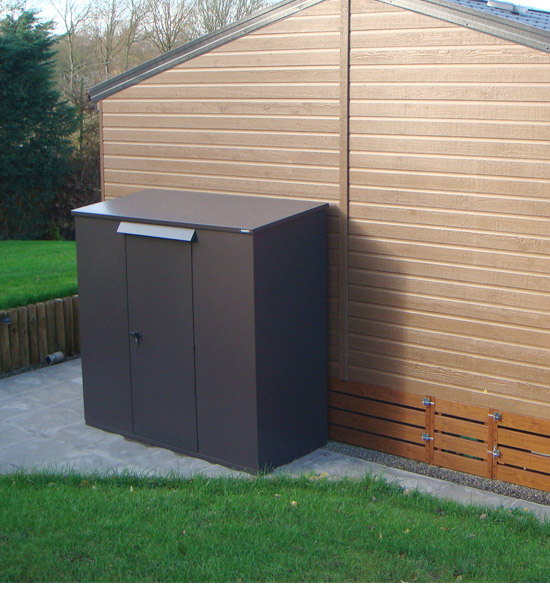 The Trojan caravan site store is tall, tough and strong, ideal for keeping outside your static caravan or holiday home. Now you can store all of your seasonal items and sports equipment, such as outdoor furniture and BBQ's.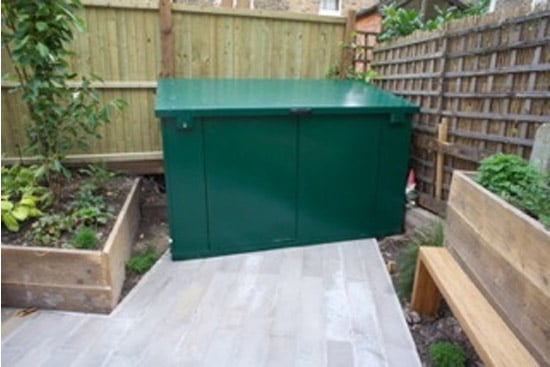 Another Access garden shed blending seemingly into a customer's garden. See the customer comments here.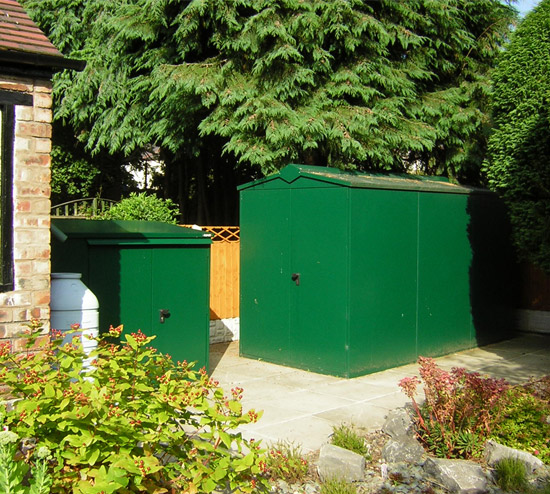 A Centurion Plus 1 and an Addition garden store. Our customers just keep on coming back! You may find as time passes by, your storage needs may change and you could find yourself needing another one of units. This customers purchase shows just how good our units look together. Now you have read a few garden shed reviews and seen how good Asgard garden sheds look, why not see what else we have to offer;
| | | | |
| --- | --- | --- | --- |
| | | | |
| Bike & Cycle Storage | Motorcycle Storage | Garden Sheds | School & Commercial |