Garden Shed Review - The Centurion Shed
Large metal shed review
At Asgard, we can proudly say that we have got a lot of experience when it comes to garden sheds. Over the years, we have designed and manufactured a range of garden storage sheds for all purposes.
Whether you want to replace an existing shed or if you've decided to buy a new garden shed, then we can help you decide which shed is best for you. Many people think that a traditional wooden shed is the best option, but these days there is a wide range of metal garden sheds which is much more secure, value for money and requires minimum maintenance over the years.
The Centurion (comments below) was chosed for its size and security. At 5 x 11 ft this is no small fry shed! Made from heavy duty galvanised panels this shed is tough, secure and weather proof! Weighing in at a rather impressive 52 stone, this shed features a 5 point locking system and reinforced doors, panels and hinges. Read more on the main product pages
here
.
Choosing the best storage shed for you garden
The
Centurion Garden Shed
available from Asgard is the most popular garden shed amongst our customers, including Ian Allen who recently bought a new garden shed from Asgard. See what he had to say about the customer service he received when buying a new metal garden shed.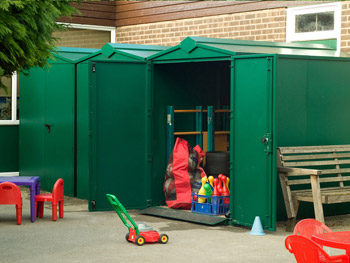 "We would like to say that from the minute going on to the web site the choice and advice offered as to what we'd need was excellent, we were kept informed via e-mail and telephone. Excellent standard of service and quality of product. We would also like to thank the delivery people who put everything in the right place.
Many thanks for first class service"
Ian Allan